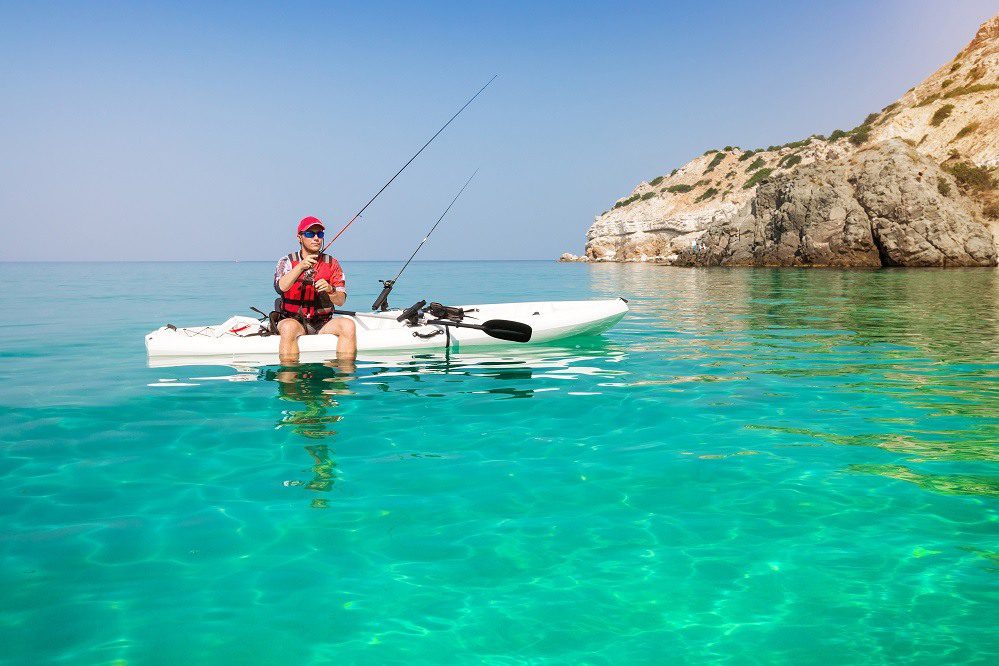 Kayaking is one of the world's best pleasures. It gives you the freedom and mobility to explore various water bodies in peace with absolutely no limitations to where you can go. The best kayak for fishing is the only solution if you want to enjoy the calm water while not toppling over and ruining your favorite fishing shirt.
Brief History of Kayaks
Earlier, kayaks were meant for transportation only, but they have gained popularity in recent times. Today, fishing from kayaks has become a favorite sport in both salt and fresh water, especially in warmer regions due to easy entry. Kayaks became a more preferred choice than motorized boats simply because they are healthy, environmentally-friendly, and generally less expensive.
Manufacturers began to offer specialized kayak models that have been designed and accessorized for fishing, including specially designed equipment mounts, GPS receivers, rod holders, in-built coolers, and hatches. These kayaks are almost the same as the ones used for recreation but have wide beams for increased stability.
Today, fishing kayaks provide the perfect balance whether you want to crouch, stand, or sit. There is a myriad of storage options so that you do not leave anything essential on land and padded seats for added comfort.
Choosing a kayak for fishing might not be as simple as picking up goods from your local sports store. One needs to consider a lot of different factors like comfort features, storage capacity, safety standards, and dimensions. If you are looking for a fishing kayak, we have three best options for you!
Best Kayak for Fishing: Brief Reviews
1. Intex Excursion Pro Kayak
The Intex Excursion Pro Kayak is one of the best kayaks for fishing and quite a reliable option. It is also one of the most affordable kayaks today and is super safe and stable. The aesthetics of the kayak are quite appealing as well.
Features
This inflatable kayak is constructed with super-tough vinyl laminated PVC which will last for a very long time since it is resistant to tear and punctures. Even if the worse is to happen, the two air chambers will give you some peace of mind, will stay afloat, and bring you back to shore. It is also fitted with several other accessories like swivel fishing rod holders, GPS, and a fish finder.
The overall design of the fishing kayak is very well thought of, and angling was the basic idea. It measures about 12 feet long and 37 inches wide, thereby comfortably accommodating two people with a maximum weight capacity of 400 pounds. The I-Beam construction helps the kayak maintain its rigidity.
The seats are adjustable for maximum comfort. You can also attach a couple of dry bags with the help of stainless steel D-rings. Additionally, the UV-resistant finish allows you to float around longer, especially during the hot summer days.
Pros:
Affordable
Very comfortable
Perfect for two people
Cons:
Not good for choppy water
Paddles could have been better
CHECK LATEST PRICE ON AMAZON.COM
2. Vibe Kayaks Sea Ghost 110 Kayak
The Vibe Kayaks Sea Ghost is a sit-on-top kayak with great comfort and maneuverability so that you can fish for hours without having to worry about your back. Offered at an affordable price with feature-rich built, this kayak is a great option to purchase for your fishing trips.
Features
One great thing about this Vibe kayak is that it features two flush mount rod holders, which give you the ability to mount several rods in a single go for an increased possibility of a catch. The rods will cut the mount deep so that they stay in securely and safely.
The center console of the kayak has a considerable amount of space to store any fishing equipment. The console can be sealed completely as well.
On top of the console, you can see some extra mounting points that can be used to customize the kayak, such as an extra rod and GPS holder. This kayak is also equipped with a toe-controlled rudder system which allows you to steer and turn it safely in rough weather conditions.
Long journeys in your kayak can be quite a grueling experience without comfortable seating. Luckily, the seats of the Sea Ghost kayak are made of cooling mesh materials that keep the airflow going and dry down fast. There is a lot of lumbar support, and the seats can be adjusted with ease.
Pros:
Multiple storage compartments
Pre-installed rudder system
Secure storage
Cons:
The large center console does not leave much space to stand
Maneuvering is a problem at times
CHECK LATEST PRICE ON AMAZON.COM
3. Elkton Outdoors Cormorant Kayak
The Cormorant Kayak by Elkton Outdoors is one of the best all-around value kayaks on the market today, thanks to its heavy-duty built. It is priced very competitively and is dependable and durable, as well as offers a lot of room for fishing gear and passengers.
Features
This 10-feet kayak has been designed with anglers in mind. For people who have just started kayak fishing or are on a tight budget, the Cormorant is an excellent choice.
The kayak is made from 170-gauge 1000D PVC, which is scratch- and tear-resistant. It can be stowed away in the trunk of your car when not inflated, and the two seats are adjustable and comfortable.
The kayak also includes double-sided oar as well as a carry bag, a repair kit, and a foot pump. While the foot pump might get on your nerves, it is more convenient and easy to carry than an electric pump. In case of leakage in the middle of the fishing trip, this kayak has three detached air chambers that are removable.
Elkton kayak also has four in-built mesh gear pockets that can easily store all your supplies and gear for a few days. The D-rings are made of stainless steel and can securely attach other kayaking equipment like the anchor or spray shields.
Pros:
Holds air better than other inflatable kayaks
Affordable
Sturdy construction
Cons:
Not good for rough weather and water conditions
Seats are a bit low and uncomfortable
CHECK LATEST PRICE ON AMAZON.COM
The Verdict
All the above kayaks are perfect for fishing, but if we had to choose just one best kayak for fishing, we would go for the Vibe Kayaks Sea Ghost Kayak. Apart from being tear-resistant, this kayak can also withstand rough weather conditions, something that the other kayaks cannot. Additionally, the Sea Ghost features a lot of mounting space for your gear and a toe-controlled rudder system.