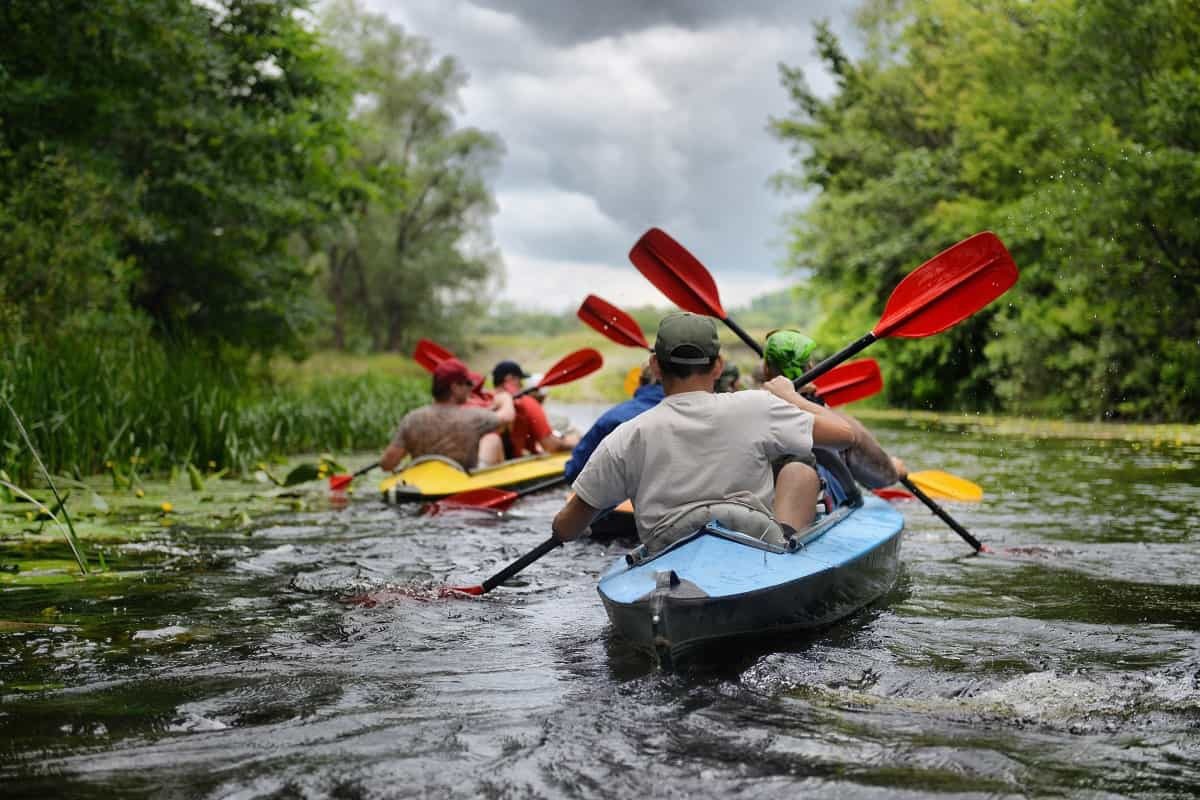 River kayaking can be a very rewarding activity. Whether you're paddling along the water by yourself or with a partner, it's a great way to sit back and relax or get your arm workout in and push hard along the water.
Unfortunately, finding a good river kayak can be pretty difficult because there are literally hundreds of different makes and models on the market these days. That's why we've put this list together.
We're going to be reviewing some of the best river kayaks out there. Read on for the full review.
Advanced Elements Lagoon 1 Person Inflatable Kayak
Airhead Montana Two Person Kayak 
Sun Dolphin Journey Sit-on-top Fishing Kayak
Oru Kayak BayST Folding Kayak
Sevylor Big Basin 3-Person Kayak
Best River Kayaks Reviews
Advanced Elements Lagoon 1 Person Inflatable Kayak
This inflatable river kayak is the perfect starting point for any amateur that is looking to get into the sport of kayaking. Thanks to its inflatable and deflatable nature, it is very easy to store and is also extremely buoyant. This is the perfect gift for any of your friends that want to start kayaking - but remember to bring a pump!
Review
Not only can you use the Lagoon 1 kayak from Advanced Elements on a river, but it is also great for use on lakes, estuaries, bays, and for general traveling. This kayak is meant to hold one person and only has one seat, so you're not going to want to try to fit more than one person in here at a time - that could end in disaster.
Advanced Elements had been making another inflatable kayak known as the Dragonfly, which was virtually identical to the Lagoon before the Lagoon 1 was released. They have since done away with the Dragonfly, and the Lagoon stepped up to take its place as their flagship inflatable kayak.
The Lagoon 1 features a new and improved design and is Advanced Elements' second-smallest inflatable kayak that the brand offers. At first glance, this kayak might not seem all that impressive because of its small size and inflatable design. However, there are plenty of factors and features that make this quite a cool little kayak.
For starters, one of the best things about this kayak is that it weighs just 23 pounds. If you are someone that does a lot of traveling, then this is ideal for you, as you'll have no trouble folding the kayak up and packing it away. Inflation is quick, easy, and convenient, so you can get paddling in no time.
The Lagoon 1 is surprisingly peppy and provides you with more tracking than you might have expected. It helps that it comes with its own tracking fin, which makes it more stable and beginner-friendly. Like we said earlier, this is definitely a beginner's kayak, and more advanced kayakers will want to take a look at some of the other products on this list.
Airhead Montana Two Person Kayak
This kayak is essentially a two-person version of the Lagoon 1 we mentioned previously and is thus quite a bit larger. It is also inflatable, meaning you'll be able to pack it away and store it with ease, but its larger size does make it quite a bit heavier. If you and a partner enjoy casual kayaking, then this may just be the perfect kayak for you.
Review
The Airhead Montana Two-Person kayak is pretty much identical to their one-person version, except that this one is more than two feet longer. It comes with two seats, weighs 9 pounds more than the previous version, and is capable of supporting quite a bit more weight, as it is designed to fit two people.
This tandem version of the Montana kayak is perfect for paddling with your friend, partner, or family member, or for those that like to bring more gear with them when they're out on the water. It's also a great option for anyone who just enjoys having more room when they're paddling around.
While this is a heavier inflatable kayak, it is still more than light enough to be carried with ease. You'll find that, when using the convenient handles mounted on the side, you'll be able to pick this two-person kayak up by yourself. However, you might not want to carry it very far.
The Airhead Montana two-person is relatively easy for two people to carry (obviously), and you always have the option of using a wheeled kayak cart to move it from your car to the water if you don't feel like lugging it there.
There are several advantages to using this kayak. The first is the grab handles, which are incredibly convenient and make pickup and moving this kayak around quite easy. Then, there are the elbow guards, which are made from soft neoprene to keep your hands, elbows, and arms comfortable and protect them from rubbing.
There is also an included footrest. This is for the person sitting at the front of the kayak, as the person sitting in the back seat can use the front seat as a footrest. The bottom of the seat is inflatable and the back can be adjusted for added comfort.
Sun Dolphin Journey Sit-on-top Fishing Kayak
Sun Dolphin has been in the game more than long enough to know how to make a good fishing kayak, and the Journey 10-foot is one of the best kayaks that the brand has ever made. It is quite large and is extremely stable, so you can be precise and focused when you're out on the water or even fishing.
Review
The material that is used throughout the Sun Dolphin 10-foot kayak is Fortiflex that has been UV-stabilized and is made from high-density polyethylene. This is one of the best materials that you could ever ask for when shopping for a kayak since its impact resistance is almost unmatched and because it is made to last.
It is also light enough for you to be able to move the kayak around by hand if need be. The performance of this kayak is fantastic. It is extremely versatile and provides you with a steady base so that you can shift your weight around without the risk of toppling into the water.
It is perfect for both lakes and rivers, and there's no doubt that it will be able to take you to your favorite fishing spot. Even though stability is one of the primary concerns and is well taken care of, the kayak also paddles like a dream, though you might experience some hiccups with tracking.
When it comes to storage, this Sun Dolphin kayak comes with a portable carrier for your accessories at the back, which can be used to store the essentials. It also comes with a storage area at the front for a bungee cord, giving you access to all the items that you need within arm's reach.
Comfort should not be a problem either, as the seat is padded generously and comes with protective pads for your thighs. The adjustable foot braces allow kayakers of all shapes and sizes to fit inside. Because this kayak is meant for the anglers of the world, it comes with a few features that benefit fishing.
There are holders for the paddles on both sides, as well as two flush mount rod holders and one swivel fishing rod holder.
When you're tight on space and are into outdoor activities that require big gear, size matters. In the past, kayaks have been infamously cumbersome and difficult for casual, relaxed traveling, especially when traveling alone, but not anymore. This foldable kayak from Oru aims to eliminate the space problem that kayaks often cause altogether.
Review
The general premise of this kayak is a simple one - the Oru folds up ingeniously, from anywhere, and becomes a portable box that's complete with its own shoulder strap, making carrying it around a piece of cake. The vessel is made using a custom polypropylene, and you can place it in just about any vehicle, hike it to remote areas, and keep it safe in even the tiniest of storage compartments.
Whenever you're out on the water and the weather is quite windy, it is expected you will wobble around. Instead, with this kayak, you will be greeted with a balanced, easy entry and smooth cast-off into the waves. Paddling flows exceptionally smoothly, and this kayak is able to glide through open channels powerfully.
You might also expect the softer body of this kayak to suffer from heavy damage when paddling through lakes with lots of rough roots and creeks with rocks, but it is able to hold up fine through a variety of beatings. This kayak is made from calm, leisurely cruises through flat waters, and the build quality will serve amateurs and pros just fine.
The Beach model is the most casual design that Oru makes, which means that it delivers an excellent experience for any user. The layout will be most appealing to those who are slightly more adventurous, and you might even be able to get your dog to join you out on the water if they can fit.
If you plan on hauling the Oru Beach quite a ways from your car, then we recommend that you purchase the heavy-duty nylon backpack, which is sold separately. It will allow you to carry the folded kayak longer distances. The hip and sternum straps add some helpful stability and make it easier for those with small figures to support the 23-pound load that is the Oru Beach foldable kayak.
Sevylor Big Basin 3-Person Kayak
Last but certainly not least, we arrive at the Big Basin 3-Person Kayak from Sevylor, which truly lives up to its name. This is an extremely spacious kayak, with three seats that are able to fit three adults in them. For tall folks that often struggle to get comfortable in a regular tandem kayak, the Big Basin may just be the solution you've been looking for.
Review
Most kayakers will generally be satisfied with the way this 3-person kayak handles. Considering the fact that it is more than 3 feet wide, it is surprisingly nimble on the water, as long as everyone grabs a paddle and gets wading. Additionally, this width makes the kayak super stable, which is necessary when there are so many people inside.
Like all of the other kayaks on this list, this one performs best on flat water. You will find that the tracking is very satisfying and that the removable fin can really make all the difference. The Big Basin even comes with directional strakes mounted at the sides for some extra assistance.
This is quite a versatile vessel that is able to be used as both a solo and tandem kayak, though be warned: using this kayak solo can be problematic and much more difficult than using it in tandem.
For shorter rides, this is a very comfortable kayak. However, on longer voyages, you might find your backside growing uncomfortable if you go for long stretches without taking a break. The seats on this kayak ensure that everyone is comfortable and stable, and the backrests give nice support, should you be taking this kayak out on the water all day.
There you have it, folks - some of the best river kayaks out there. We hope that you have found this review useful and that you'll be able to go out and purchase exactly the right kayak to suit your needs. Happy paddling!