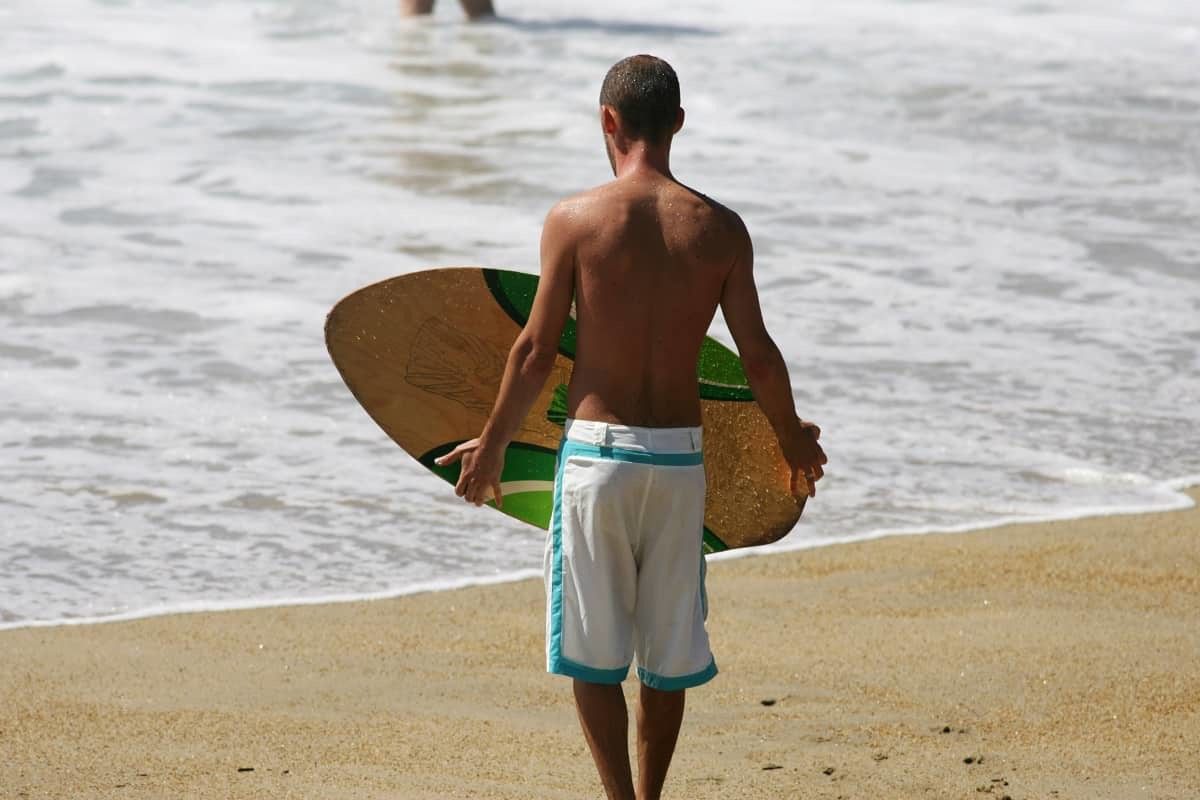 Have you ever stared at the ocean and seen surfers riding the waves? Well, guess what, surfers are not the only ones who ride waves; skimboarders ride waves, too.
Skimboards and surfboards are like a pair of twins; they have many similarities but differ vastly. Skimboards are smaller, narrower versions of surfboards, and they do not have fins on the bottom of the board. You might be thinking, if skimboards are just smaller versions of surfboards, what is their purpose?
The purpose of skimboards is to glide on a wave to shore, as well as to perform tricks on the wash of waves on coastal or non-coastal bodies of water. But you need to have the right size of skimboard to ensure a great experience. Here we go through all you need to know.
What to Consider When Choosing a Skimboard
You should consider the following factors when selecting the perfect size skimboard for yourself: the material, your height, your weight, the thickness of the board, the shape, skimming speed, and your skimboarding style.
Skimboards are made from wood, carbon fiber, foam, or graphite. The material you select depends on your proficiency and the body of water you want to skimboard on. As a beginner, it's best to get a wooden skimboard, but as you progress, you can upgrade to a carbon-fiber one, which is what many experienced skimboarders use.
For non-coastal bodies of water, it is best to use a wooden skimboard. If skimboarding is just a fun hobby, the best selection for you is a foam or graphite skimboard, as it can be used on all bodies of water.
Skimboard Size Chart
Your height and weight play the biggest role when selecting your skimboard model size.
| | | |
| --- | --- | --- |
| WEIGHT (KG) | BOARD DIMENSIONS | MODEL |
| < 40 | 45.00" x 19.00" | XXS |
| 40-50 | 48.00" x 19.25" | XS |
| 50-70 | 51.00" x 19.75" | S |
| 60-80 | 52.00" x 20.00" | M |
| 70-90 | 52.25" x 20.25" | ML |
| 80-100 | 52.50" x 20.50" | L |
| 90-110 | 53.00" x 20.75" | XL |
| 100-120 | 54.00" x 21.50" | XXL |
The table above will give you an indication of how to pick a skimboard according to your weight. Your height also determines the physical size of the skimboard you select. The skimboard you select should come up to your waist.
However, your proficiency level also affects the size, as larger boards are easier to ride, while smaller boards require a higher skill level.
Size
When thinking about the size of a skimboard, you also need to consider the thickness of the skimboard. The board dimensions determine your movement in the water. Thicker boards are heavier in the water, they travel a longer distance, and they create more security in the water, although thicker boards do not have good movement in terms of rotation.
On the other hand, thinner skimboards create a more weightless effect in the water. Therefore, they move more easily. Thinner skimboards travel a shorter distance in water and require a greater proficiency level.
Shape
The shape is the next big component when selecting a skimboard. There are five main skimboard shapes - thomas, raza, sacramenta, streamline, and prota.
Thomas has a square nose and tail, as well as a wide midsection.
Raza has an oval nose and tail with a wide, circular midsection.
Sacramenta has an extra-wide midsection with double cuts on the side, a narrower nose, and a narrower tail.
Streamline has a large oval nose and tail with a narrow midsection.
Prota has a flat square nose and tail with a wide, oval midsection and double cuts on the side.
The shape and design of a skimboard play a role in the motility of the skimboard in water. Also, the shape affects the size of the skimboard, as well.
Speed and Style
As mentioned earlier, your skimboarding speed and style also have a major effect on the size of the skimboard that you should select. If you are a wave ski boarder, it is best to select a thicker board with a wide midsection and a narrower tail for more control and weight in the water. However, in non-coastal bodies of water, thin and narrower skimboards are easier to use for tricks, faster movement, and a lighter feel in the water.
The size of the skimboard you select affects the speed you will reach in the water. The main goal of skimboarding is to create fast movement in the water, so it is crucial to make the right choice when choosing the size of your skimboard. When looking at skimboard dimensions, it is important to note that thicker boards with narrower tails are slower, while thinner boards with wider tails are faster in water.
Final Thoughts
Overall, selecting the perfect skimboard size for yourself will take some time and effort. But if you carefully read the above "Skimboard Size Chart: What Size Skimboard Should I get?" guide and take into consideration your height, weight, shape, thickness of the board, and your skimboarding style and speed, you will be successful in finding the perfect size skimboard.