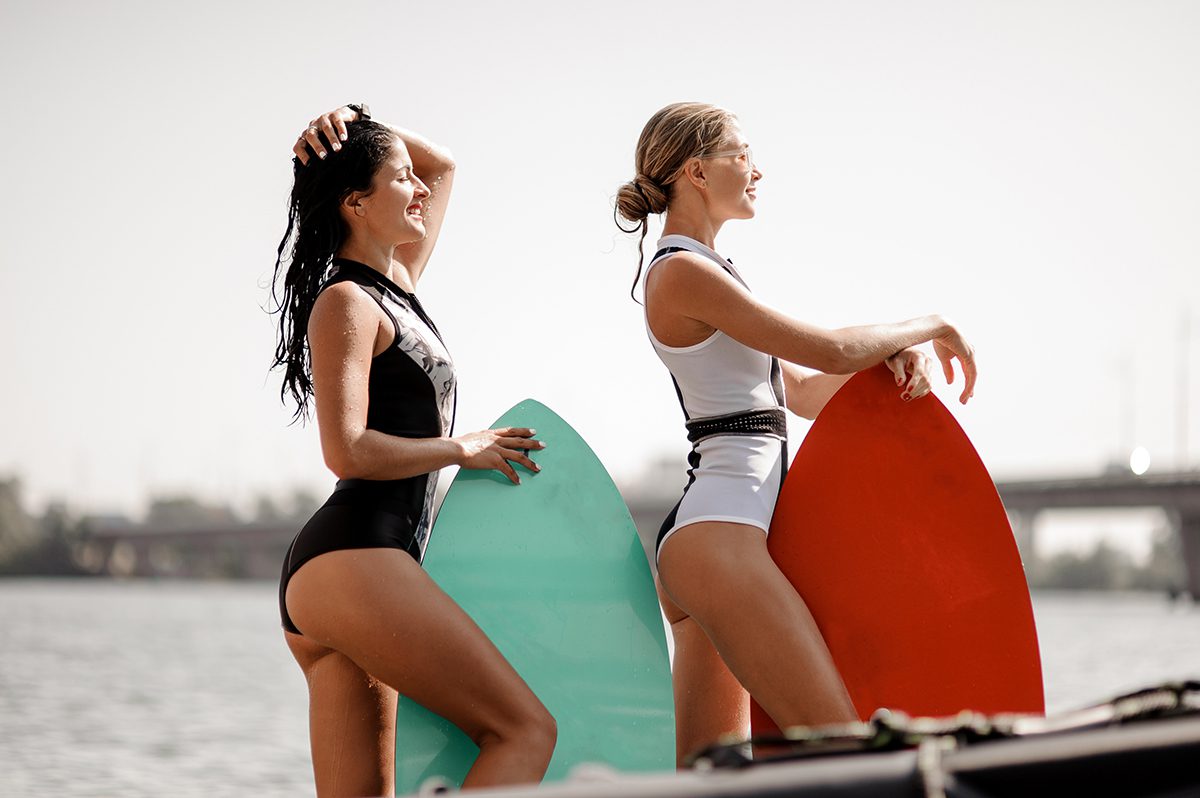 Best Wakeboards of 2021 – Reviews with Comparisons
During the summer months, many people want to get out on their local bodies of water. Whether that be the ocean, a lake, or a river, being near the water gives you the ability to cool off. One of the activities a lot of people get into is wakeboarding.
One of the key pieces of wakeboarding equipment is, of course, the board. But which one should you invest in? Check out our look at some of the best wakeboards on the market today.
Comparison Chart
Hyperlite Motive Mens Wakeboard 134
Full Throttle Aqua Extreme Wakeboard Kit
RAVE Sports Impact Wakeboard with Charger Boots
Connelly 2021 Blaze 141 Wakeboard
Liquid Force Tao Hybrid Wakeboard Mens Sz 137cm
Wakeboard Reviews
1. Hyperlite Motive
One size fits all
Molded-in fins
Continuous rocker
6-degree beveled edge
Bio 3 core
Weight capacity – 210 lbs.
Our first board is a lightweight and easy-to-use option that comes fitted with design features that make it great for the beginner. It is designed with a Bio Core 3 core. This gives the wakeboard a lightweight feel and still allows it to be durable.
The board is crafted with a beveled edge that allows the rider to learn and develop their skills quicker and without such intense falls. The Hyperlite Motive uses a continuous rocker and molded-in fins to elevate the performance and ease of control.
So for us, as you can see, the key thing that we love about this wakeboard is that it is perfect for learning and developing your skills. Not only is it built with features that enhance usability and control, but it is also pretty sharp to look at. This is a plus but the money lies in the overall design.
The durable and sturdy materials help give it a high weight capacity, making it versatile when it comes to who can use it. The molded-in fins and the continuous rocker help provide it with stability and better control. On top of that, the boots are included in the package, which means less money that will need to be spent.
Now that being said, we do highly recommend the wakeboard for beginning riders only. If you are a more advanced rider, you will want something with a more challenging level of use. Particularly, the fact the edges are not very quick may hinder your usability.
Also, there have been some that have found the boots run a little larger. So you may still need to find a pair that fit you perfectly for better performance and safety.
[amazon box="xxxxxxx"]
PROS
Board is designed to be able to handle a large weight load

Crafted with easy to use mechanism and design

Built with a simple rocker for improved control

Boots are included with the board for added convenience

Cool graphics give it a nice aesthetic
CONS
Some have found that the boots run a little big

Edges of the board are not the quickest, which detracts from performance
CHECK LATEST PRICE ON AMAZON.COM
2. Absolute Outdoor Full Throttle Aqua Extreme
Weight capacity: 155+ lbs.
2.5" continuous rocker
Traditional claw plate
Floating EVA toe
Molded EVA heel
Layered glass top sheet
x2 molded-in fins
V-bottom tunnel
Feather core technology
ABS retention strips
ABS fin block (reinforced)
This next board is another great choice for beginners and intermediate riders. It is crafted with channels that are defined and run from the tip of the nose through the entire length of the board. Along with this, the board's design includes a continuous rocker and built-in fins.
To ensure the fins are secure, they are designed with reinforced AKS blocks. The board comes with lace-up boots for better security that click into a traditional claw plate with enhanced locking mechanisms. The bottom is light and the core is crafted to ensure the lightest weight possible.
Honestly, there is a lot to love about the wakeboard, especially as we said if you are just starting out or have only been wakeboarding for a short time. The molded fins help with stability and the defined channels help with control. These two things combined help give this board a nice level of ease when controlling it.
The board itself is wrapped around a feather-light core and is topped with an ABS retention strip to enhance that performance even more. Plus, it comes in three different colors and with lace-up boots for added security.
This board, though, does have a few things that we think could be done better. The biggest of them for us is that the board's finish has been known to chip. This could affect the friction of the board and its edges if it happens in the wrong place. Other than that, it does lack in some ways, and that is why we think that for a more advanced boarder, you may want to look at other options.
PROS
Designed with two molded fins for improved stability

Boots that are included are lace up for better security

Crafted with several defined channels for improved edge control

Built with feather core and ABS retention strips for improved performance

Board come in multiple color choices
CONS
There are some issues of chipping of the graphic finish

Design is not as conducive for use by intermediate to advanced boarders
CHECK LATEST PRICE ON AMAZON.COM
3. RAVE Sports Impact
Weight capacity: up to 125 lbs.
Reinforced edges
Foam core
x2 removable fins
Lace charger boots
Continuous rocker
This board is a board that is made for beginners. Crafted with a continuous rocker for better stability and a low weight capacity, it is a perfect option for kids and small adults. It is manufactured with high-grade materials that are both durable and lightweight. The core of this board is crafted in foam for better buoyancy.
Running the entire edge of the board are impact-resistant side rails. This design feature also protects the foam core, which helps extend the life of the board. The board also comes with two removable fins so that storage and transportation are easier. On top of that, this board comes with high-quality charge boots.
The charge boots are one of the things we like the most about this board. They are easily adjusted so they can fit any kid's feet (or small adult). This gives them more security and comfort for the days out on the water.
Looking at the shape of the board, you will notice a wider center that helps improve stability which is precisely what a new boarder needs. That new boarder also needs help with control, and that is where the reinforced edges come into play. The use of durable materials is also good for the novice boarder as there will be some falls, and a board that can withstand that is a plus.
Even with all of that, this board is not perfect. The weight capacity limit is perfect for most kids as the board is good for those up to 125 lbs. But this does limit the usability, especially if the child is a little on the bulkier side.
Other than that, there have been some boards that have come without instructions on how to install the fins. This may not be a problem for all, but it does seem like an oversight.
PROS
The charger boots fit most kids feet as they are adjustable

Overall design shape helps with improving stability

Comes with reinforced edges for improved durability

Crafted in a flexible and light material

Removable fins give it easy control for novices
CONS
Has a low weight capacity, so only suitable for smaller boarders

No instructions on how to install the fins
CHECK LATEST PRICE ON AMAZON.COM
4. Connelly 2021 Blaze 141
System 80 core
Laminated Smorg base
x4 Molded-in fins
x2 1.9" skater bolt in fins
Weight capacity 140 – 240 lbs.
Open-toe design
Lycra lined
EVA footbed cushions and supports
Dual-zone lacing
3-stage rocker
Full spine
Our next board is a perfect option for those that are intermediate and even maybe a little advanced. Its gradual 3-stage rocker gives this board a unique look and offers different abilities when out on the water. The board is lightweight and crafted with a full spine channeling that optimizes the performance. The boots are high quality and come up higher, and are tightened with a dual lace-up system.
This board has so much design into its build that it had to be on this list. Within a small build, Connelly has managed to jam this board full of performance-optimizing features. The board offers a heightened level of grip from the design, making carving on the waves pretty easy, even if it is a 3-stage rocker design.
The tail end is fitted with channels and cut-outs that help reduce the friction making it easier to navigate. That, along with the center ridge, helps with maneuverability. Another great feature is the use of a light 3-stage rocker which makes tricks and lift much easier as well.
Though we love the light 3-stage rocker design, it does mean that the center of the board is flat. This detracts a bit from the carving capability afforded the board with the use of the carve-outs. Also, the boots offer good support for the ankle, but you have to be extra careful to ensure they are tightened to the max to keep there from being any slippage that might affect your lift capability.
PROS
The design gives the boarder good grip for carving on the waves

Full spine cut-outs help with the reduction of friction on take-off

Crafted with a center ridge that helps displace water when doing jumps

Built with a light 3-stage rocker for better lift off of the lip

Price versus value is outstanding in comparison to competitors
CONS
The board is flat in the middle, and that makes carving harder

Boots need to be tightened well; otherwise, you may experience some slippage
CHECK LATEST PRICE ON AMAZON.COM
5. Liquid Force TAO Hybrid
3-stage rocker
Stepped deck
Single concave hull
Concave beveled rail
CNC wood core
Triax Glass Layup laminate
Comes in 4 sizes
Weight capacity: 70 – 140 (133), 90-180 (137), 140 – 210 (141), & 160 – 230 (145)
The next board is a perfect option for those wakeboarders that love to ride park style. It is designed for optimal flexibility and durability, so you can hit all those obstacles with confidence in your board. Crafted with a 3-stage rocker and a stepped deck, you get full flexibility when out on the water. The board is also crafted with a wood core wrapped in a PU foam that gives it a lighter weight than any of its competitors.
This board is crafted with tons of features that optimize its performance. The unique and deep channels allow for improved cutting capability, giving you the ability to zoom from right to left with ease. Along with that, the 3-stage rocker provides the rider with a better ability to pop and maneuver, which is exactly what you need for all those park obstacles.
But for us, the best thing about this board is the stepped deck. This unique design allows for stronger presses and flexibility to maneuver the nose and tail. On top of that, the stepped deck makes landings much softer.
This board is a pretty good bet for us; however, there are a few issues that we have with it. Both of which don't really affect the performance but that we think narrow the versatility when it comes to using it.
The board is designed so well that if you are a beginner or intermediate boarder, you might want to take a look at one of the other options on the list. This board also doesn't come with boots, and that might be a problem for boarders looking for a kit-like deal to save money.
PROS
Unique cut channels for better cutting capability

Rocker offers a better pop and obstacle maneuverability

Stepped deck for exaggerated presses and more flexibility of nose and tail

Landings are softer due to the stepped deck

Crafted with a flexible material and design for enhanced durability
CONS
The design makes it better for more advanced riders

Board is not available in a kit, so you will have to buy gear separately
CHECK LATEST PRICE ON AMAZON.COM
Final Thoughts
No matter if you are a beginner or an experienced rider, we are sure that one of the options above will be the right fit for you. We hope that our in-depth look at these five boards has helped you with your decision-making process.