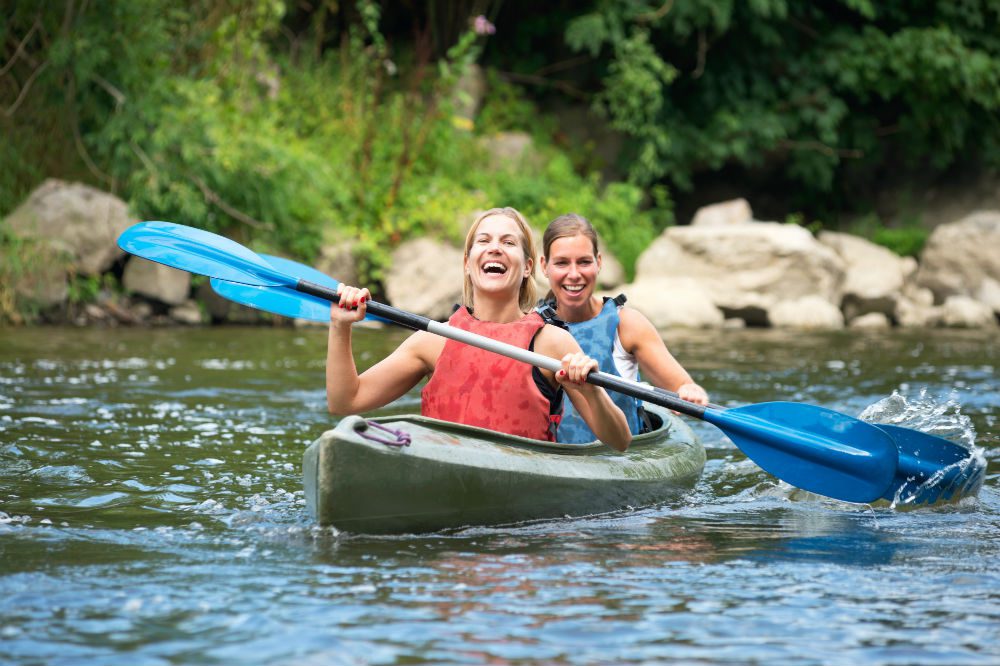 Are you new to kayaking? Do you want to excel in this water sport? Do you want to know where to start shopping for equipment? Does spending a lot of money on the wrong gear scare you? If your answer to such questions is yes, then have no worries. We have reviewed three of the best kayak paddles to ensure you travel long distances with minimum effort.
It is common knowledge that apart from the kayak itself, the most important gear for kayaking are the paddles. Considering how you need to paddle for hours, a high-quality, lightweight one with the right design and length can make all the difference.
Leader Accessories 87'' and 96" Marine Aluminum Kayak Paddles Five Colors for Kayaking Boating Black,White,Yellow,Orange,Blue Available
SeaSense X-Treme II Mix Kayak Paddle
MSC Kayak Paddle,Color Available Black,Yellow,White,Olive,Blue 2-Piece (Yellow, 86 inches)
Best Kayak Paddles Reviews
To make it easier for you to choose, we have decided to take a close look at three kayak paddles, keeping all essential features in mind.
1. Leader Accessories Marine Kayak Paddles
Leader Accessories is a U.S.-based brand with over 30 years of experience in manufacturing automotive as well as outdoor leisure products. These include covers for RVs, boats, and motorbikes, and various gear for camping, fishing, and watersports.
The Marine Kayak Paddles is among their most popular watersport products.
Features
This paddle has a two-piece, push-button construction that allows you to store and transport it easily. The shaft is constructed from inexpensive and durable aluminum while the blades are made using high-quality plastic. This ensures you get a sturdy rod that can help you navigate through water with minimum effort.
In order to help you move through the water seamlessly, the blade comes with a curved design. It can also be feathered 60 degrees for both right- and left-hand control.
This feathered and curved design reduces wind resistance and allows you to turn the blade in water with a slight twist of your wrist. Furthermore, it minimizes stress on your wrist, helping you to paddle for longer distances.
This kayak paddle comes in two lengths: 87 and 96 inches. Its blade measures 18.5 by 7.5 inches. Before purchasing, you should deduce which length will be more suitable for you.
Since this paddle is constructed from aluminum, it is mid-weight, which means that it is not too heavy and not too light. This makes sure that you do not get tired rowing over and over again.
This kayak paddle is available in five different colors. These include the classic black and white colors along with vibrant orange, yellow, and blue options. The bright yellow and orange ones will help you locate the paddles easily if you manage to lose them anywhere.
2. SeaSense X-Treme II Mix Kayak Paddles
Based in Iowa, United States, SeaSense has been making high-quality marine and trailer equipment since 1984. They offer various products at very reasonable prices. One of their proud creations is the X-Treme II Mix Kayak Paddles.
Features
This kayak paddle is constructed with a durable aluminum shaft and a plastic blade. This ensures that you get a robust yet lightweight paddle that will last you a long lifetime. Furthermore, it has a two-piece construction that makes it easier to take apart for transport and storage.
The blade of this paddle has been feathered to reduce wind resistance and is also enforced with supporting ridge to give you additional strength. Hence, you get the ability to glide through the water with precision and speed.
Apart from all this, you also get adjustable drip guards that protect you from water splashes while paddling. This kayak paddle is designed to float, which lowers the risks of you losing it in the water.
SeaSense X-Treme II is available in two length options: 84 and 96 inches. Select the one which will be more suitable for your height.
This brand has also constructed this paddle to be quite lightweight. With a weight of only 35 ounces, you can easily maneuver through the water for long distances without tiring yourself out.
SeaSense X-Treme II comes available in two color options. You can choose from either a combination of blue and white or orange and yellow.
3. MSC Kayak Paddle
This brand has an experience of over 10 years in making quality products for outdoor as well as water leisure activities. Using their investments in product designing, MSC provides highly innovative commodities at a competitive price in the market.
Want to know what makes their kayak paddle one of the best? Let's look at what it offers.
Features
The shaft of this paddle is made of corrosion-resistant and wear-resistant anodized aluminum alloy, while the blade is made from high-tension plastic. This construction allows for maximum performance and durability. What's more, you can get all of these at an affordable price.
This paddle has a two-piece construction that makes it easy to transport and store. MSC has also designed this paddle with a three-button snap ferrule that allows you to adjust the feathered blade from zero to 60 degrees.
Along with that, the low-angled blades have a supporting ridge to give extra strength. There are also drip guards to prevent water splashing on you. Plus, you also get foam grips on the shaft so that you can paddle comfortably for long distances without wearing out your hands.
This kayak paddle is available in two length options: 86 and 95 inches. Before purchasing one, you should match your kayak width and your own height to the length of the paddle. Apart from this, it has a total weight of about three pounds or 48 ounces.
This kayak paddle is available in seven different colors: black, white, yellow, orange, blue, tan, and olive. Thus, you get a wide range of options to match the paddles to your kayak.
Verdict
To conclude, all three of the kayak paddles have amazing features and are available at an affordable price. This makes it hard to choose only one as the best kayak paddle. However, we found that the MSC Kayak Paddle is offering the most qualities without being heavy on the pockets.
This kayak paddle offers two different shaft length built from a robust, high-quality aluminum. Moreover, the blades have been engineered to provide precise control through its adjustable feathering and supporting ridges. If you are looking for a great durable paddle, you should look no further than this one.