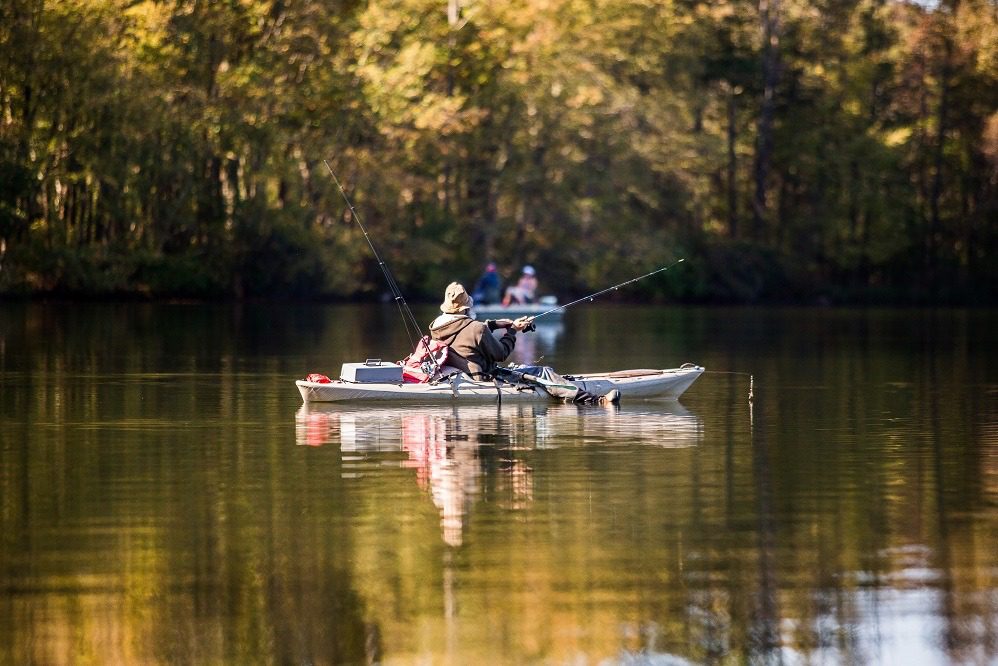 Fishing is fun, especially if you can catch at least one fish. Finding a fish, though, is not easy. You need to make lots of preparation before heading out to a fishing adventure. One of the fun parts of kayak fishing is fixing your boat according to your needs.
We will talk about how to outfit a kayak for fishing. Outfitting your kayak is essential to the outcome of your adventure. If it's your first time to go on kayak fishing, we have to make sure you are safe and you get to enjoy every minute.
How to Outfit a Kayak for Fishing
Kayak fishing is simple since all you need is a kayak and a fishing rod. However, for you to enjoy it to the fullest, it is best to customize your kayak according to your needs.
Basic Things You Need
You can start with the basics without having to spend a lot of money. Also, there are a lot of products to choose from for you to have an enjoyable kayak fishing experience.
1. Rod Holders
Whatever type of fishing vessel you have, it is vital to have a rod holder installed to keep it in place. Most rod holders are made of plastic and easy to install. You need to have at least three rod holders in your fishing kayak.
The flush-mounted type has a tube which is either inserted or molded into the kayak on the top of the deck behind the seat. Just put the end of the rod into the container and tie it with the rod leash.
Another kind of rod holder is the secure mount. This kind of mount is more popular than the first one. It is installed on the middle part of the deck or behind the seat where it securely holds the rod and the reel.
One more rod holder type is the kayak crate or tackle box. This type of rod holder is also a favorite option among anglers. It combines the tube style rod holder and a covered container or boxed-in storage for all your things.
2. Anchors
Once you find the fish location, you need to keep your fishing kayak from moving much like a regular fishing boat. There is no better way to do that than using an anchor. But since you are using a fishing kayak, which is smaller than a fishing boat, your anchor should not be more than three pounds.
Try using the folding anchor. This kind of anchor design is flexible and easy to move. It can also hold on to almost all types of surroundings.
For soft-bottomed surroundings, it is best to use a claw anchor. This type of anchor is not as portable as the folding one, but it will make sure that you stay in your place.
3. Paddle Leash
Make sure to secure your paddle to avoid losing it while fishing. Try installing an accessory to the boat and then tie one end of your paddle to the installed hardware. A leash can either be coiled or made with a bungee material which is more manageable than the usual built-in paddle tie downs.
Tips and Suggestions
We have discussed the basic things that you need to do to turn your kayak into a fishing kayak. Below are other ways to personalize your fishing kayak.
1. Get a Comfortable Seat
It may seem like nonsense, but having a comfortable seat on your fishing kayak is very important. You will spend a lot of your fishing time seating while waiting for a catch. Your seat should have enough padding, and the backrest must be able to support you at the right angle.
2. Organize Your Gear
In any situation, being organized will significantly help a person with whatever task they need to accomplish. In this case, we are on a kayak fishing activity. Since kayaks can carry limited numbers of gear, organizing it according to your needs is vital to your kayak fishing experience.
3. Install Gear Tracks
Gear tracks will let you attach and remove the accessories from your kayak real quick. It will also allow you to customize your fishing kayak as you please.
4. Install Light and Flagpole
Since kayaks are a lot smaller than fishing boats, a light and a flagpole is an essential addition to the fishing kayak for added security. This addition will alert other vessels about your presence.
5. Invest on a Fish Finder
A fish finder will help you find locations where fish are abundant. It also helps in locating fish holdings in deep waters.
You may also want to check fish finders with GPS. This added feature will help you mark and find the location where you initially found a fish. It will also help in finding your way back during night time.
6. Install Deck Padding
Using a kayak for fishing is better than using a fishing boat. Kayaks are small and quiet as they wade through the water.
Deck padding is beneficial in cases wherein you accidentally drop something on the deck. The sound it will produce would frighten the fish away.
Conclusion
You can do many things to upgrade your fishing kayak. You can install fishing rod holders and a paddle leash so that you can secure your fishing rods and paddle and avoid losing it in the water. Buy an anchor that is suitable for a kayak, as it will help the kayak to stay in place while you try to catch a fish.
In addition, you can buy a comfortable seat for your kayak; install additional gear tracks for your accessories; add a light and a flagpole for added safety measures; use a fish finder, especially one with GPS for ease in navigation; add deck padding to avoid sending noises that will bother the fish.
The list goes on as new products for kayak fishing continue to surface in the market. Now that we have learned how to outfit a kayak for fishing, what is important is to customize your fishing kayak based on how you will use it so that you can enjoy the adventure of this water sport.