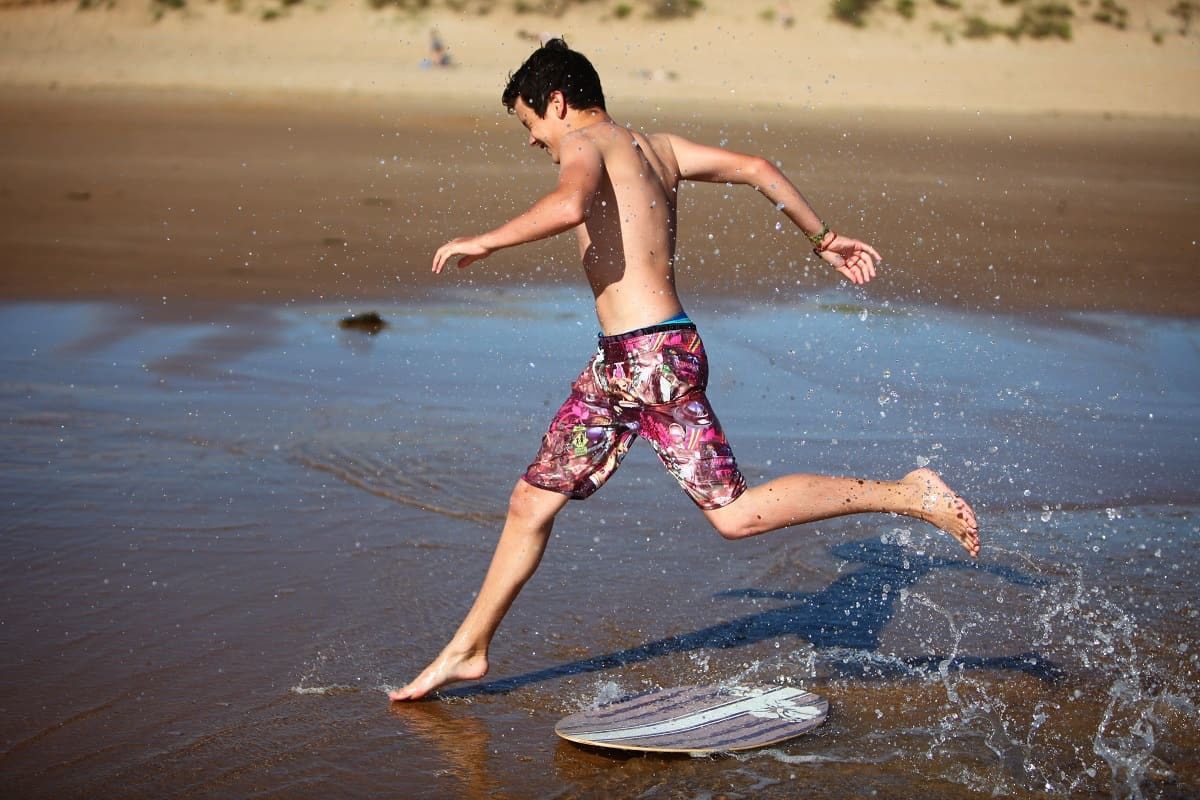 Skimboarding has become more popular over the last few years. This sport uses a combination of skateboarding, surfing, and snowboarding, and it is harder than you may think. That being said, you can help make your introduction into the sport easier by having the right equipment.
Unsurprisingly, the most important piece of equipment is your skimboard. There are many different designs that differ in many aspects, so you may have no idea where to start your search. Below, we will look at a few of our choices for the best skimboards for beginners on the market. Hopefully, this will help you!
Sandfish Board Co. Skimboard
Exile SuperG Skimboard
Wavestorm Skimboard
BeachMall Wood Skimboard
South Bay Board Co. Performance Wooden Skim Board
Skimboards for Beginners Reviews
Sandfish Board Co. Skimboard
The main features you can expect with this skimboard include:
3-ply North American poplar
Steering flexibility
Flatland riding design
Laminated cover
Traction-foam top
Dimensions – 35" x 18" x .5"
Weight – 4.5 lbs.
When you are first starting out with skimboards, one of the most important things you need is flexibility in steering. There are a lot of features that help with this, ranging from the lightweight poplar used as the base to the design of the board itself. On top of that, this board uses a well-made traction grip, and all of this is available for a reasonable price.
Although there is a lot that we like about this board, there are a few things that we take fault with. The efficiency of this board depends on the beginner and is best if the rider is small and weighs less than 75 pounds. However, the biggest concern is the flatland riding design. This makes it great for calm water but not great for waves.
The main features you can expect with this skimboard include:
PVC foam core
Fiberglass reinforced
Dimensions – 40" x 17.9"
If you are starting out, it might be hard to think ahead to when you will be adept at this sport. However, when you are talking about spending your hard-earned money, you may want to look into the future and consider a board that will last for a long time. The versatility of this board is amazing, and it will be there for you through your learning process and much further thanks to the high-grade materials used in its construction.
That being said, this board is not perfect. There are a few things that we think could be done better. For instance, it is not great for smaller beginners. That means if you are less than 140 pounds, you will need to find another option. Also for a beginner's board, the price may be a little steep for some.
The main features you can expect with this skimboard include:
EPS foam core
3x marine ply stringer system
HDPE bottom
Graphic foam deck
Weight capacity – 185 lbs.
Dimensions – 45" x 20.5" x 1"
Weight – 7.1 lbs.
Beginners need certain features so that they can get a good grip on the board and learn the skills needed to be safe and good at the sport. This board has everything a beginner needs. It is lightweight, which helps with easier control. Along with this, the board has a larger surface area than many of the others, which helps improve the stability of the board. Combine that with the rest of the features, and this board is a winner for us.
Though there are quite a few features that help this skimboard stand out in the crowd, there are also some that might detract from that. The least of these is that it does not come with a warranty, which might be something that a beginner is looking for. Along with this, there is the maintenance and upkeep of the board, which is a lot more than others.
The main features you can expect with this skimboard include:
30" solid wood core
Layered EVA traction pad
Diamond-shaped grove top
Hard resin coat
Dimensions – 30" x 18.8" x .45"
Weight – 3.2 lbs.
When you look at this board, you can see why we love it so much. It is crafted with a durable wooden core and offers many features that help make this board a premium option. The deck has an EVA traction pad that helps improve grip, and the resin coating allows for smoother movement through the water. These features easily made it one of the best recommendations we could give.
Even being the best board on our list, there are always things that could be improved upon. You might think that the rubber padding would negate the need for wax, but unfortunately, it doesn't. Also, this board is only for younger beginners, as the weight limit is quite low.
South Bay Board Co Performance Wooden Skim Board
The main features you can expect with this skimboard include:
Longer body and teardrop-shaped head
Wider center and tail
Epoxy coat
Soft-top foam deck
Dimensions – 41" x 17" .5"
This board is one that we recommend to older beginners. It has a good weight capacity, which makes it a versatile choice for just about anyone. The board is also really light, which makes it easy to transport and also helps with the steering of the unit. Plus, it is a wax-free option, which further helps make it a great beginner option.
Although it may not have as much upkeep as others, it does have a few flaws that we would be remiss without mentioning. The non-skid rubber and the EVA foam have both been known to peel without much use.
There is a skimboard for everyone. All you have to do is find the one with just the right features for you. If you are thinking about trying your hand at skimboarding, we are sure one of the models above will be a good fit for you.