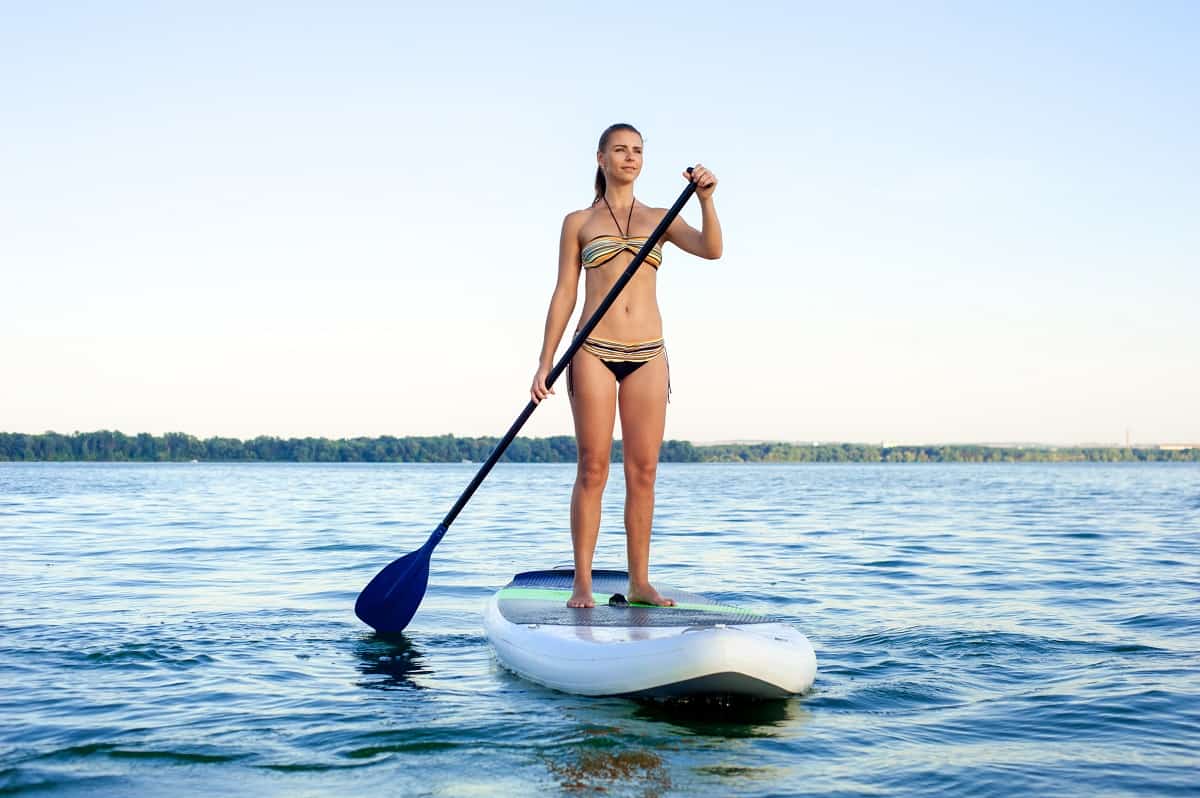 The musky smell of the sea, the salty water, the free air, and the acres upon acres of open spaces have a rejuvenating effect on your mind. That's why taking time out to spend a weekend or a few vacation days by the sea is an excellent idea. The trip can amount to being much more than just a fun and exciting experience but also one that's laden with mental and health benefits.
When out at sea or an ocean, you have the option of actively chasing the waves or enjoying the flat water, all of which boils down to energy levels. Luckily, you can try your hand on both activities if you have a paddle board at your disposal. These boards let you spend time on your feet as you enjoy the expansive ocean spaces and take in the sites. Here's a comprehensive Wavestorm 9' 6" stand up paddle board review to help you make an informed buying decision when you need one.
Wavestorm 9′ 6″ Stand Up Paddle Board Review
The Wavestorm 9' 6" Stand Up Board stands out as one of the few remaining solid paddle boards on the market. Most other varieties available are inflatable. This board is for you if you prefer a solid feel underneath your feet as you float on flat water.
The lightweight, soft board is not only safer but is also gentle on your knees, feet, and hands. The soft foam top ensures that you won't suffer injuries if you do happen to fall off the paddle board.
The Wavestorm stand up board measures 9 feet and 6 inches and weighs 24 pounds. Since they ship in pairs, the package will weigh over 50 pounds counting the accessories such as adjustable paddles, storage straps, and a soft cloth cover.
Features
High-density Core
Made from high density expanded polystyrene core, the Wavestorm SUP makes the perfect beginner board. A high-density core makes the board less susceptible to damage as you learn the ropes. New surfers are known to bang their boards on the rocks, and the foam composition reduces the amount of damage the paddle board sustains. Also, the composition makes the board the perfect travel composition as it keeps it from splitting or cracking while on the road.
Durable
This stand-up paddle board ships with a set of three marine wood stringers to increase its stiffness. These stringers reinforce the board to let it handle more carrying load and endure harsh water conditions. While the board won't have the rigidity of a fiberglass body, it holds well in the waves and has a carrying capacity of up to 250lbs.
Kid-Friendly
The last thing you want when introducing your kids to the wonderful world of watersports is a cracked skull. It takes a while for new surfers to find and maintain their balance on the board. A soft paddle board provides little ones with a soft landing if and when their wobbly legs and balance lets them down. Unlike the hard, unyielding fiberglass surface, the soft foam top doesn't make the learning experience painful and discouraging.
Enhanced Safety
As part of the meticulous design, the board ships with a storage strap to let you take your precious belongings with you on the water. You only need to stash your belongings into a waterproof bag and keep them safe with you. No more leaving your precious items on the beach at the mercies of complete strangers.
A preinstalled ankle leash plug ensures that your board remains secured to your leg in the unfortunate event that you tumble off the board. The plug is especially used for surfers who like to chase and ride strong waves. Having your board handy is crucial when surfing far out into the ocean. It ensures that you remain safe and dry as you recover your strength. If the waves recede, you can lie on the board and use your hands to paddle back to dry land.
Easy To Handle
At 9"6', this board is a foot shorter than the larger boards on the market. That makes the board easy to steer as you skim the water surface as it responds seamlessly to quick turns. The inline traction pads give you a firm foothold as you surf or navigate flat water. An advanced water barrier skin keeps the craft bone dry to avoid waterlogging. A resilient HDPE bottom is impervious to rocks and other debris in the water, meaning that you never have to cut short an adventure due to a punctured board.
Alternative
If you prefer a paddle board with a higher carrying capacity, you can settle for the Tuxedo Sailor stand-up paddle board. This inflatable PVC board is 10 feet long and has a carrying capacity of up to 300 pounds. The double-layered construction makes for a sturdy board while the additional PVC boards and three removable fins give it fantastic stability.
Final Verdict
This Wavestorm 9' 6" stand up paddle board review shows it to be an excellent choice for both beginners and skilled watersports enthusiasts. It's slightly smaller than the standard boards making it easy to steer and turn. The soft foam top eliminates serious injuries and bruises in case you take a tumble when tackling a challenging wave.
However, this board is less stiff than the carbon fiber and glass fiber alternatives on the market.
If looking for something different, consider the Premium Inflatable Stand Up Paddle Board Package from South Bay Boards Co that is capable of carrying 350 pounds.