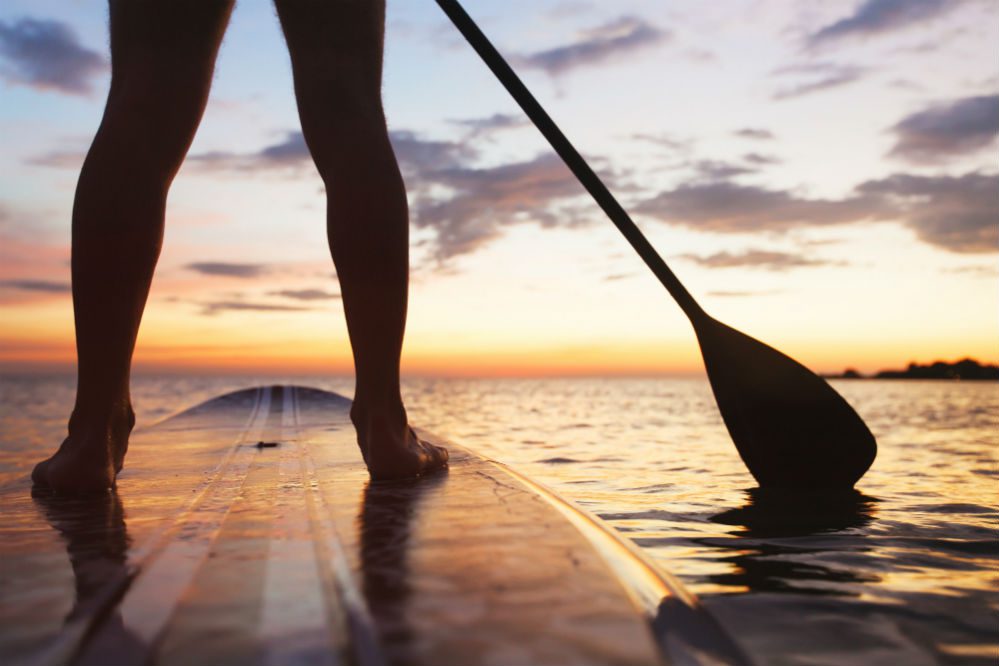 Going out to the beach or to a body of water can be one of the most enjoyable experiences you can have with your friends and family. There are several water sports that can be enjoyed, but if you are not too inclined to doing physically demanding activities, you can still enjoy the water with stand-up paddleboarding.
Paddleboarding is not as demanding as compared to other water sports. It can be a slow and relaxing experience that can be enjoyed by the entire family. However, in order to truly enjoy paddleboarding, you have to invest in the best paddle boards.
In this article, we will take a close look at three stand-up paddle boards to see which one of them is the best. All three are from reliable brands and are priced right so as to ensure that you get the most value for your money.
Best Paddle Boards: Top Three Picks
1. SereneLife Inflatable Stand-Up Paddleboard Kit
The SereneLife Inflatable Stand-Up Paddleboard measures 10.5 feet long and 30 inches wide and weighs no more than 20 pounds. It is an inflatable board that features a no-slip, soft top that helps in cushioning falls and slips. What's more is that it also has a bungee cord that is used for securing belongings on top of the board.
The board itself is outfitted with three bottom panel fins. These fins help make steering and handling he paddleboard better even while you're standing up. The design and shape of the board also make it easier to glide and skim across the water.
This product comes with its own blow-up paddleboard kit. This kit includes a coiled ankle cuff safety leash, an aluminum paddle, and a manual air pump with its own storage bag. The ankle cuff can be strapped to the ankle of the passenger and attached to the board for safety and board security.
The SereneLife paddle board is available in several colors including turquoise, orange, pink, and blue. The colors accent the top and the entire bottom of the board, but it also colors the end of the paddle.
Pros
Comes in various vibrant colors
Has its own waterproof bag
Can be easily transported and stored
Comes in a complete kit
Perfect for rivers, oceans, and lakes
Has a max weight capacity of 275 pounds
Cons
The paddle can be too heavy and can sink
The valves can leak air
Board is among the heaviest SUP boards
CHECK LATEST PRICE ON AMAZON.COM
2. Pathfinder Inflatable Stand-Up Paddleboard Kit
The Pathfinder Inflatable Stand-Up Paddleboard is a 9.9-foot by 30-inch board that is five inches thick. The board inflates with a manual pump, and when deflated, it can easily be stored inside a custom bag. The bag is great for several water activities, but it is especially good for stand-up paddleboarding.
This board is made with PVC material, which is combined with a strong multi-layer drop stitch for added durability. The maximum weight limit that this paddleboard can carry is no more than 240 pounds.
The Pathfinder board also features an oversized deck pad, a bungee cord for safeguarding on-board cargo, and a D-ring to attach a leash and secure the board to the passenger. The board also boasts an adjustable aluminum paddle, a manual air pump, a detachable center fin, and its very own carry bag with shoulder straps. The board has its own valve wrench too.
The Pathfinder board is available in white and blue color combination with grey and black accents. It also comes in the color orange. The accessories are colored black, but the tip of the long stand-up paddle is in orange.
Pros
One of the most affordable stand-up boards in the market
Comes with its own bag for easy storage
Very lightweight board, even when fully inflated
Comes complete with accessories
Very easy to assemble
Cons
The bag is hard to carry when full
The valves can leak air
Cannot support more than one person
CHECK LATEST PRICE ON AMAZON.COM
3. Ten Toes Weekender Inflatable Stand-Up Paddleboard Bundle
The Ten Toes Stand-Up Paddleboard is one of the best inflatable paddle boards on the market. It is made out of military-grade PVC materials, which ensure optimum durability.
The board is 10 feet long, 30 inches wide, and six inches thick. When the board is deflated and rolled up, it only measures in at 11 inches by 36 inches.  The total weight of the entire bundle is 36 pounds, although the board itself is only 29 pounds. The maximum weight capacity of this board is 275 pounds.
This bundle includes the stand-up paddleboard, an adjustable and lightweight aluminum paddle, three fins, a manual air pump, and its own repair kit. The board features a bungee cord at the surface for securing belongings on top of the board.
The Ten Toes Weekender Inflatable Stand-Up Paddleboard is available in several designs to accommodate all kinds of preferences. You can choose from several colors including red, blue, green, peach, black, and turquoise.
Pros
Available in multiple colors
Features a strap to hold the rolled-up board
Has a no-slip grip even when wet
Comes with an ergonomic paddle
Durable and can last for years
Cons
Does not include the Ten Toes bag for the board
The manual air pump can be hard to use
The manual air pump has no PSI valve
CHECK LATEST PRICE ON AMAZON.COM
Verdict
All three boards are actually very good products. Being inflatable boards, all of them can be deflated and rolled for easy transport and storage. All the boards are also exceptionally made using durable materials, which means that they can support any and all riders.
If you ask us, the best product out of all three paddleboards has to be the SereneLife Premium Inflatable Paddleboard. The board itself is made with quality materials, and the accessories are all quite durable and useful too. What's more is that it comes with its own rucksack as well.
The board also has additional features, such as two extra bottom fins for stability and speed as well as a coiled ankle safety cuff. These small details add to the quality of the product and place it above the other boards on the list as one of the best paddle boards you can buy.