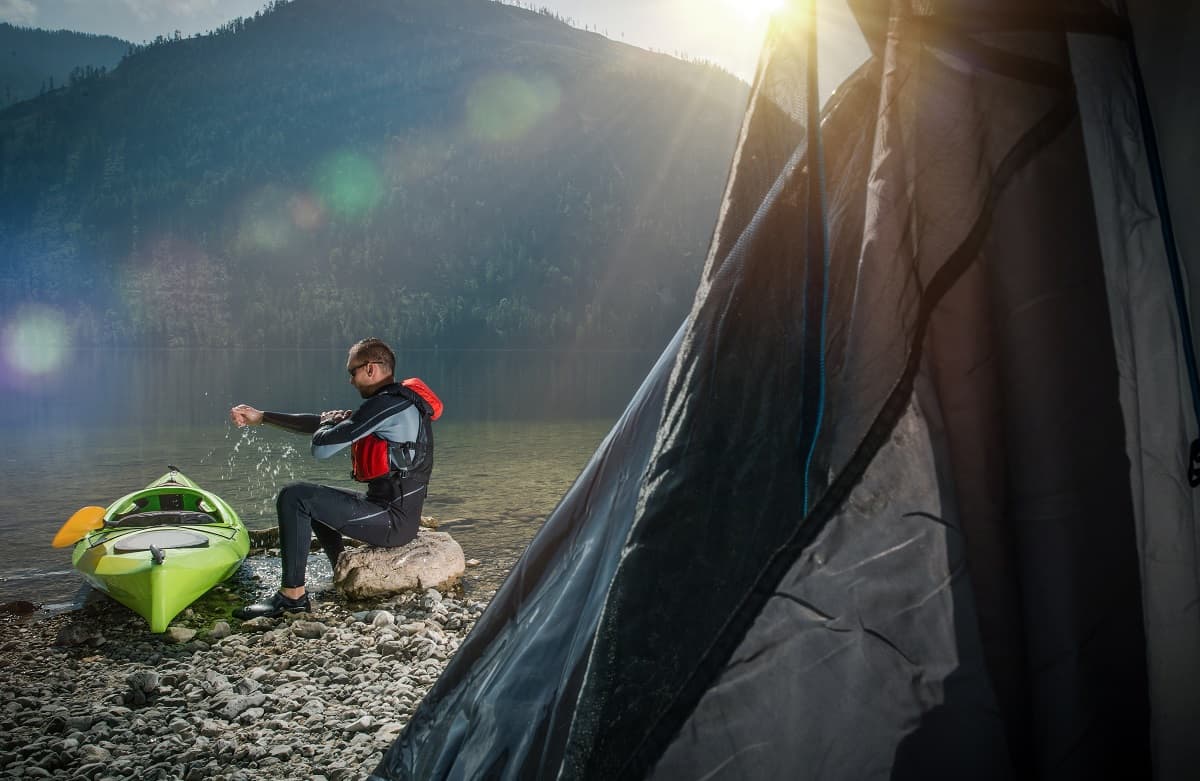 A soon as you pull up on the lakefront, you get to feel the wind on your face and hear the sounds of the rolling waves breaking on the shores as you enjoy the breathtaking view.
Surreal as this might sound, it's not a figment of your imagination. A growing body of scientific information confirms this to be true. Spending some time by the blue environment has considerable mental and health benefits on people of all ages. It promotes general fitness in addition to helping reduce stress hormones and slow down your heart rate.
Planning a family camping trip is an incredible way to ensure that each member of your family gets to harness these benefits. In addition to the usual camping gear, having a kayak helps you to make such an outing a runaway success. Here is a list to make it easy for you to find the best kayak for camping.
Lifetime Youth Wave Kayak (Paddle Included)
Intex Explorer K2 Kayak
Sea Eagle 370 Pro 3 Person Inflatable Portable Sport Kayak
Best Kayak for Camping Reviews
1. Lifetime Youth Wave Kayak
At 18 pounds, this craft is the perfect kayak to kickstart your kid's boating experience. Its lightweight nature makes it kid-friendly, and it comes with a swim-up deck for easy access. Molded finger handles ensure that your little one has a good grip when they need to tread the waters.
A combination of high-density polyethylene and ergonometric design results in highly stable craft with excellent tracking. That means your kids won't have to expend all of their energy trying to stay afloat on the water. Ease of handling is crucial in quelling any fears in young children who aren't exceptional swimmers.
Although it's recommended for kids from the age of five, this kayak will grow with your kids. Multiple footrest positions let the craft accommodate kids of different heights. As long as your child weighs less than 65 pounds, they can safely use the kayak, meaning it'll take several years for them to outgrow it. The stable, high-density polyethylene construction makes the kayak impact resistant to keep your kids safe while giving it an incredible lifespan.
2. Intex Explorer K2 Kayak, 2-Person Inflatable Kayak
This luxurious and spacious inflatable craft has earned itself a spot as a best seller in Amazon's touring kayak category. Quite the workhorse, this kayak tracks straight even when carrying two adults weighing up to 400 pounds.
It boasts inflatable seats with a backrest to keep you comfortable as you take on mild rivers and lakes. The seats attach to the kayak with Velcro straps, making it easy for you to rearrange them to suit your needs and preferences.
A removable skeg and an inflatable I-beam floor stabilize the kayak as you move to help you conserve your energy as you paddle. A puncture-resistant heavy-duty vinyl and separate air chambers guard against air loss and leaks.
A Boston valve on each side of the kayak lets you it up and take it down in a matter of minutes. With a little practice, you can whittle the entire process to under ten minutes.
3. Sea Eagle 370 Pro 3 Person Inflatable Portable Sport Kayak
Aptly named, the Sea Eagle Pro makes the perfect watercraft for anyone looking for a thrilling kayaking experience. Weighing a measly 32 pounds, this sports kayak can seat up to three adults with a combined weight of 650 lbs.
A pair of skegs gives you fantastic stability such that you can handle class III whitewater without being worse for wear. The movable seats with back support make each trip a thrilling adventure with friends and won't strain your back.
The rugged polykrylar hull is not only impervious to rocks and boulders as you move downstream but also to a dog's paws. That means you can take your furry companions for a whitewater adventure. The I-beam floor construction provides a solid footing for better steering control and helps to keep your pets calm and relaxed. A self-bailing valve lets you drain any water that gets on board when you're out in the ocean or on whitewater rivers to avoid tiring your hands.
A series of air valves makes assembling and dissembling the sports kayak an easy task. With a little bit of practice, you can have the inflatable kayak folded and stashed in its carrier bag and vice versa in less than eight minutes. Each unit ships with a pump and a pair of 86" aluminum oars.
With its ability to seat three adults, conquer class III white water, and accommodate pets, the Sea Eagle soars above the rest to be the best kayak for camping. You will enjoy its fantastic stability that gives you better speed and tracking on the water as well as easy setup process.
If you're looking to introduce your kids to the wonderful world of kayaking, be sure to check out the Lifetime Youth Wave Kayak. It is great for children starting at the age of five, but will work for them for their whole childhood.
If you enjoy a little bit of a pair outing on the water, consider getting an Intex Challenger K2 Kayak. The inflatable craft comes with a roomy cockpit and boasts a solid construction that gives you total control over on the water.