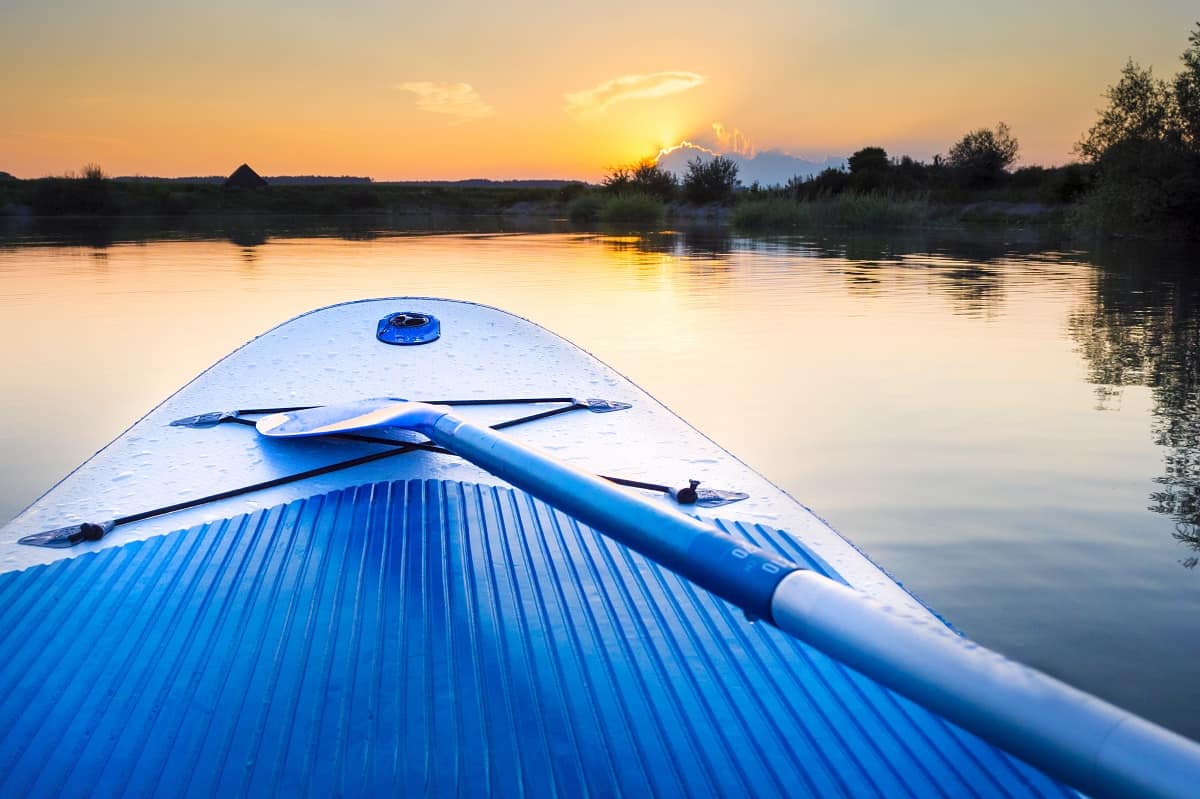 There's something about the open water with just a couple of clouds in the skyline and the gentle rolling of the waves that give the ocean its inherent tranquility. More than the scenic view, breathing in the fresh air comes with numerous health and mental benefits. From cleansing your lungs to improving your skin and lowering your stress level, you stand to gain a lot by spending some time by the water.
Now you don't need to splurge a lot of money by renting a boat for the day to enjoy a lazy day at sea. Not when you can settle for a stand-up paddle board. While such a board isn't as elegant as a boat, it gives you the freedom to harness these benefits at will. This SereneLife Inflatable Stand Up Paddle Board Review aims to furnish you with helpful information about one of the most popular choices among people who love paddle boarding.
SereneLife Inflatable Stand Up Paddle Board Review
You don't need to run up a tab just to harness the benefits that come with spending some time in the blue environment. With one of these inflatable boards, you can take to the water anytime you wish and improve your health. The board is easy to inflate and deflate for a quick set up and take down.
It's made of a double layer of PVC, making it impervious to rocks and any other objects that you might run into during your water expeditions. Modern stabilization technology makes it easy to steer and control.
Who is this stand-up board for?
The 10.5-foot long board had a max carrying capacity of eight people, or 275 pounds and accommodates water sports enthusiasts of all skills and levels. A non-slip grip gives you the freedom to focus on activities other than surfing the waves. You could lie on the board and let the rolling movement of the waves rock you to sleep. Or you could practice your yoga moves as you enjoy the calming effect of being on the water. You could also bring the board on your fishing trip and reel in your catch while standing on it.
Unboxing the SereneLife Inflatable Stand Up Paddle Board
The paddle board measures 6 inches thick, 30 inches wide, 10.5 feet long and weighs 19.6 pounds. The shipping weight comes to 32 pounds since the box contains the paddle board, an aluminum paddle, a coiled ankle leash, a storage bag, and a manual pump. It ships in a box measuring 12" x 18" x 35" so won't fit in your mailbox.
Features
A Huge Working Surface
At 10.5 feet, this stand up board is well balanced and stabilized to ensure that you never have to worry about falling off. The ability to handle the rolling waves increases the range of activities you can perform on the board. Now you can extend your workout session to the water or enjoy the rare privilege of fishing on your feet in the middle of the lake.
An Accommodating Deck
An anti-slip deck pad extends all the way to the back of the pad to allow you plenty of room when you need it. Exceptional balancing mechanism means that you don't have to be rooted in the middle of the board to use it. The deck is made of soft but durable material to spare you from painful falls should you tumble or have an accidental slip.
Inflatable PVC Material
One of the best qualities of this board is that it's inflatable, but it rides like a hardboard. That gives it exceptional surf control as you skim and glide on the water with your friends or as you go about your workout. The sturdy, high quality double layered PVC composition with drop-stitch material gives the board a sturdy build and a long lifespan. The double-action pump makes inflating the paddle board a quick and easy task.
Easy Maneuverability
The stand-up board comes equipped with three fins – one on each side and a removable one in the middle. The triple fins make for smart handling and steering and lends exceptional stability to the board. That enables you to keep your paddling strokes smooth and easy – no more of that tiresome frantic peddling motion that leaves you winded and breathless.
Portable
Since it's portable and weighs a measly 19 pounds, 32 with all the accessories, this stand up is the perfect travel companion. It fits snugly in the provided bag and won't take up too much space in your car. The provided carry bag comes with shoulder straps for a convenient carry when going on a camping trip.
Multiple Uses
The triple fins give the stand-up board incredible stability when it's not in motion, regardless of where you're standing on it. That transforms it from a mere surfboard to whatever you wish it to be. Lie on it and let the waves rock you to sleep or use it as your floating yoga mat. You can use the board to catch up on your reading, catch some vitamin D, or catch some fresh fish for your evening meal.
User-friendly
Since this paddle board boasts exceptional stability, it's a perfect match for any anyone looking to spend some quality time by a lake, ocean, or a river. It means that novices shouldn't worry about falling off while giving the more experienced crowd more surfing options. People of all ages, skills, and interests can have a great time using this stand up board.
Alternative
If you find the price tag on the SereneLife stand up paddle board a little too rich for your blood, try the more affordable Freein Explorer Inflatable Stand Up Board. The fully loaded 33" wide and 6" thick board folds into a 25-pound backpack and has carbon fiber reinforced sides.
Verdict
This SereneLife Inflatable Stand Up Paddle Board Review explores the features that make it quite popular with water sports enthusiasts. Its lightweight and sturdy construction, coupled with amazing stabilization technology, make it a fit for people of all ages. You don't need any particular skills or experience to take this inflatable board for a ride.