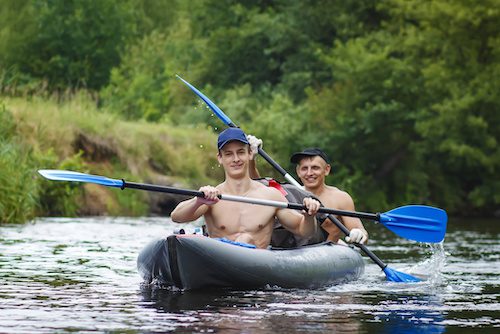 Kayaking is one of the most versatile water sports, but it is simply no fun to go kayaking without a partner. While tandem kayaking is more challenging than solo kayaking, it is the challenge that makes the sport more intense and collaborative.
If you want to go on a fun kayaking trip with a trusted partner, you should know which brands sell the best tandem kayaks out there. To help our readers, we have listed the following as our top picks for the top tandem kayaks on the market.
Intex Explorer K2 Kayak
Intex Challenger K2 Kayak
Ztotop 2-Person Inflatable Kayak Set
Best Tandem Kayak Reviews
Tandem kayaks are a great way to test the synergy between two people. Being able to ride a tandem kayak heavily depends on how you and your partner work together. In comparison to solo kayaks, they are generally more difficult to maneuver.
Most kayaks are simply too heavyweight and long to be able to turn properly. Hence, people can not rely on them as well as they should. Our picks for the best tandem kayaks work to solve these problems.
1. Intex Explorer K2 Kayak
Intex Recreation Corp. is a U.S.-based company founded in 1966. They have been selling high-quality products, such as airbeds, above-ground pools, toys, furniture, and boats, for more than 50 years.
Features
This company's kayaks are some of their best-sellers, and the Intex Explorer K2 Kayak is no exception. Will it be awesome enough to be your first choice? Let's find out.
Overall Design and Dimensions
One of the best things about the Intex Explorer K2 Kayak is that it is incredibly lightweight. It weighs approximately 35 pounds while its overall length is 10.3 feet. Hence, turns are smoother and quicker.
Moreover, its design is perfectly streamlined so that you can easily paddle your way across the water. You can easily assemble and disassemble it as well. You can take it anywhere you want, and it will not take up much space.
The Explorer K2 is a good tool to have in races. Not only does the removable skeg provide enhanced directional stability, but the inflatable I-beam provides more rigidity as well. With this kayak, you don't have to worry about wobbling. The Explorer K2 gives you a far more stable kayaking experience.
Furthermore, the maximum weight capacity for the Intex Explorer is 400 pounds. Hence, two people can easily fit into the seats. Additionally, the Intex Explorer is made with rugged vinyl construction, which makes it more durable even in faster currents.
The Intex Explorer K2 takes into account your comfort and well-being. You do not have to worry about being cramped in a tight space with little room to wiggle about. The Intex Explorer K2 has a wide leg room, so it is good even for taller people.
Additionally, the seats are both adjustable and removable, so you can sit however you feel comfortable. The sturdy backrest gives you optimum back support. It also helps you fix your posture so that you can paddle more efficiently.
2. Intex Challenger K2 Kayak
Another great product by Intex Recreation Corp., the Intex Challenger K2 Kayak is an ideal choice for beginners. What makes it stand out from its competition?
Features
The Explorer has better self-bailing and better quality paddles, which is ideal for professional kayakers. On the other hand, the Intex Challenger K2 is a portable and easy-to-use kayak for anyone just starting out.
Overall Design and Dimensions
At about 35 pounds, the Intex Challenger K2 Kayak makes paddling much more efficient. The kayak is 11.6 feet long and 2.6 feet wide. Moreover, like the Explorer K2, it has a streamlined design, specifically done to make turns easier.
The fact that it is inflatable means that it is much easier to lift and carry. Even if your destination has a bit of a hike, transporting this kayak is not a problem.
The Challenger K2's design is similar to the Explorer K2 as it is also made of vinyl and has an I-beam floor. However, the material has been reviewed to be more durable.
The vinyl is both puncture-resistant and UV light-resistant, so you can sit in the sun for hours without causing damage to the kayak. Moreover, the kayak also comes with a repair patch kit, which you can use to fix any holes in the air chamber immediately.
The Intex Challenger can easily accommodate two adults, with its maximum weight capacity being 400 pounds.
The Intex Challenger K2 includes seats with backrests and a spacious cockpit. Intex realizes how hard it can be to sit in a kayak for hours, so it works to provide you with the maximum level of comfort you can get.
Additionally, the 86-inch aluminum oars are lightweight and easy to carry. Therefore, paddling is not as taxing on your arms.
3. Ztotop Two-Person Inflatable Kayak
Ztotop is an electronics equipment manufacturer selling covers for kindles, phones, and tablets. However, it also provides other high-quality products, including bags, umbrellas, and kayaks.
Features
The Ztotop Two-Person Inflatable Kayak comes highly recommended. It is a great purchase for anyone with a tight budget. Could this be the right choice for you?
Overall Look and Dimensions
Fully inflated, the Ztotop Kayak weighs about 30 pounds and is almost 3.5 meters long. Despite its size, you can easily transport this kayak in the included carrying case.
The length of the Ztotop Kayak is similar to solo kayaks. It gives you more flexibility in movement. With this, you can decide to bring a dog or have your partner paddle while you fish.
The Ztotop Two-Person Inflatable Kayak is highly durable and puncture resistant. The material is a strong, rugged vinyl, which means that you can easily take this kayak in high currents without worrying about the risk of punctures.
Moreover, the repair kit comes with easy instructions and visual aid to help you efficiently fix any leaks. However, do not use this kayak in harsh weather or bodies of water larger than lakes or small rivers. Exposure to salt water may wear down the sturdiness of the kayak.
The Ztotop Kayak has a very roomy cockpit for adult legs. Two fully sized adults can easily fit into the kayak as the capacity is 400 pounds. Even a small child may fit into the cockpit along with two adults. The kayak has a tow rope and grab-line to give you more stability while paddling.
Moreover, the kayak also has great safety features. It has three separate air chambers, so if one gets punctured, the boat will not sink. Additionally, the kayak comes in a beautiful blue color, making it easily visible from afar.
Final Verdict
In sum, any of these tandem kayaks are solid, trustworthy options for your upcoming kayaking trip. However, if we had to put forward our top choice out of the three, the winner would clearly be the Intex Explorer K2.
The Intex Explorer K2 is lightweight, compact, and has spectacular directional stability. It is an excellent investment for kayakers, both beginners and pros. Moreover, it has great safety features and has been certified by the National Marine Manufacturers.