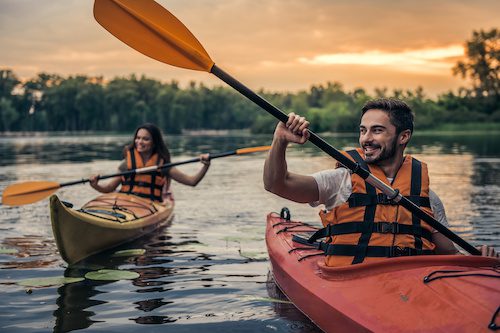 Are you a kayaking enthusiast who is looking forward to exploring something new? Or are you a beginner eager to start kayaking but feel rather overwhelmed?
Whatever your reason for landing on this article, let us help you answer the most frequently asked question when it comes to kayaking: what size kayak do I need?
What Are Kayak and Kayaking?
A kayak is a small canoe boat that comes with a small opening to sit in. Although most kayaks can only accommodate a single paddler, they are available in other sizes too.
If you need a kayak to accommodate two or more paddlers, don't worry. There are a variety of kayaks of different types and sizes that you can find. The best option for you, though, depends on certain factors, which we'll be exploring in no time.
For those of you who don't know, kayaking is a water-sport that involves paddling a kayak in the water. Although, kayaking is more than just boating. This fun activity can be conjoined with other activities to double the fun. These activities can be anything from camping to fishing in the open sea.
What Size Kayak Do I Need?
Are you buying a kayak for the first time and are skeptical about the multiple sizes available? Well, we are aware that shopping for kayaks and other boats can be a little challenging. Let us simplify it for you.
To ensure a safe and enjoyable experience with your kayak, you have to look into several factors before making a decision. These factors include:
The length of a kayak depends on the purpose you are going to use it for. Longer kayaks can be good for cruising efficiently while requiring little effort from the paddler's side. On the other hand, smaller kayaks are steady and easy to maneuver on turns.
Another factor to consider is the location where you are going to paddle your kayak. Different waters require kayaks with different lengths. If you are buying a kayak for racing purposes, you might want to buy a smaller or shorter option such as those that measure seven to nine feet long. On the other hand, larger options or those that measure 17 to 20 feet are good for kayaking in oceans and rivers.
Your weight will also decide the length of the kayak. A person weighing 200 pounds or more might require a different kayak than the one weighing less. You can easily find the weight capacity of a kayak in its description.
Obviously, this is one of the most critical factors to keep in mind. Everyone wants to buy the best in the least amount possible. However, if you're inexperienced, your mind might tell you not to invest more than a few bucks on your kayak.
If you're a beginner and not ready to splurge on a kayak, try buying something that fits your budget. How to decide which one is the best? Ask yourself: is this just a summer thing, or are you actually going to kayak in the long run? If it's something more than a summer fling, you might want to invest a little more in this. After all, it's going to pay out in the end.
On the other hand, if it's the former, try buying an affordable option, and if kayaking becomes your thing, you can always sell and buy a good one. A secret tip is to buy a used kayak boat first to gain experience, but do check that it's in operating condition.
Are you a kayak racer or just buying one to bring with you on your long camping trips? This one question can help you decide the size of the kayak as well.
If you go for the camping option, you're going to spend many long days and cold nights in your kayak. So, comfort is your number one priority in this case. Back support and footpads are generally provided with such kayaks.
Longer kayaks don't limit your space and will allow you to move freely. So, opt for more spacious kayaks if entertainment is your primary purpose.
On the other hand, racing only takes place for a few hours, and space isn't really a necessity here. What you do need is the speed offered by smaller kayaks. They are capable of churning high speeds in the water and may guarantee you a win.
The Physique of the Paddler
As already mentioned, the weight of the paddler also affects the decision when it comes to buying kayaks. However, it's not only the weight; how a person carries his body also matters.
The physique of the paddler, such as the torso, back support, hip width, arm length, and leg length, should also be considered while buying the kayak.
Regardless of your height, check the availability of spacious legroom. The legroom should be designed in such a way that it gives you freedom of movement even while standing.
While most of the kayaks come with adjustable features, you might still feel strained after spending a couple of hours in water.
The way you are going to carry your kayak from your home to the water is also a factor to consider. Many people live far from the waters; this means one has to carry the kayak to go kayaking. Obviously, the larger the size, the harder it is to carry.
Transporting a heavy kayak from one place to another can be a great hassle. So, if you think carrying a kayak for a couple of miles will exhaust you, choose the lighter option. It's going to be easier, more budget-friendly, and super convenient.
For extreme kayak lovers, though, this won't stop them from going with the option that sits well with their liking.
Conclusion
So, what size kayak do I need? Now that you've inspected kayaks inside and out, there's no decision you can't make. From shopping for kayaks to knowing the tiniest bits about them, you're good to go. Remember, although the activity is fun, always make sure of your safety and your well-being.