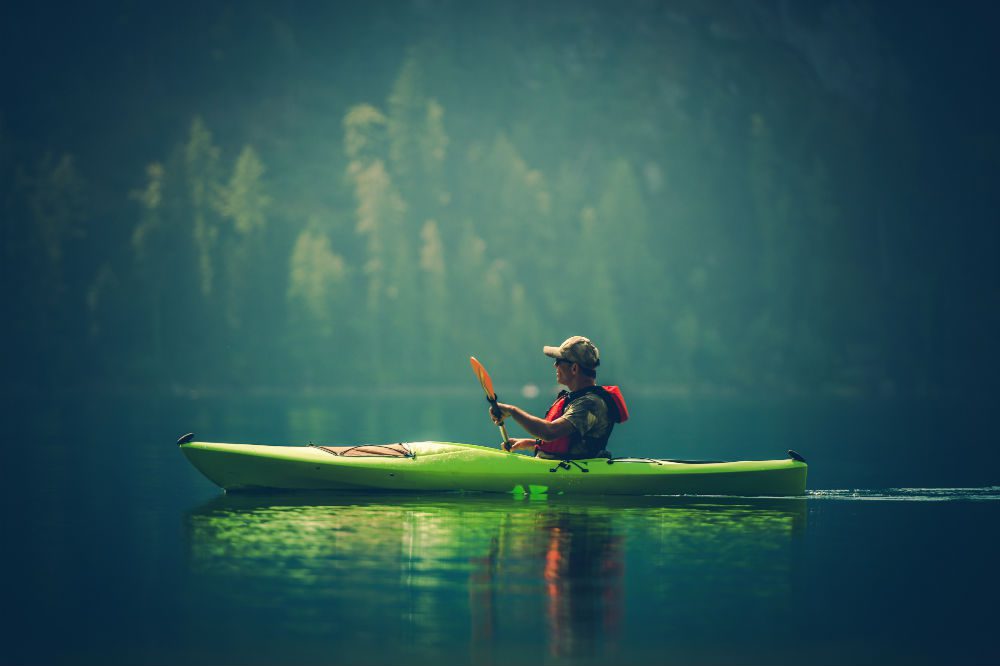 Are you looking to try a new adventure on your next getaway? Do you want to experience something fun, different, and thrilling? Do the water bodies such as rivers and lakes excite you?
If your answer is yes to any of these questions, then we know the perfect activity for you. You should try kayaking if you haven't already. It not only helps you keep physically fit but also relaxed and mentally at peace.
For kayaking, it is essential to have the right products to make the activity easy and pleasurable for you. This is why you need to buy the best kayak paddles that suit your needs. Hence, we have reviewed one of the best choices available, the Naviskin Kayak Paddle.
Naviskin is a sports good manufacturing company that has online stores available all around the globe. It is committed to providing good-quality, comfortable, and affordable products that last a long time. These kayak paddles are a recent popular addition to their collection.
Features
The Naviskin Kayak Paddle is 87 inches long. This not only allows short people to use it with ease but is also accessible and recommended for tall people. Therefore, whether you are five feet or six feet tall, it will suit your needs easily.
The dimensions of the Naviskin Kayak Paddle are 46 by 7.5 by 2.8 inches. The blades measure 18.5 by 7.5 inches.
For further convenience and ease, this kayak paddle can be dismantled into two pieces. This makes it very feasible to store as it would no longer require a sizeable storage area.
Apart from this, the two-piece construction feature also makes it portable. You can travel with it and carry it around with you easily.
The Naiviskin paddle is made using aluminum. Aluminum is one of the best construction materials as it provides the paddle with strength and makes it long lasting.
In addition to this, aluminum reacts with oxygen in the air to form an impermeable oxide layer. This oxide layer makes the metal corrosion-resistant as well as waterproof.
The blades of the Naviskin Kayak Paddle have a feathered design. This feature is very beneficial, especially in strong windy conditions. This is because the feathered design decreases the resistance to winds, making it more efficient to use. Due to this, less force is needed to move your kayak.
Since the paddle can be dismantled into two pieces, it is important to fit these pieces together tightly while using it. The three locking positions lock and join the pieces together securely. This feature ensures that the shaft does not twist or shift while you move it. Instead, it acts as one solid piece.
The Naviskin Kayak Paddle is lightweight, weighing only 2.9 pounds. This allows you to row for longer periods more efficiently without getting tired.
Moreover, the fact that it is lightweight means it comes with many health benefits as well. A lightweight paddle such as this one causes less strain to your body and wrists as you use it. This relieves you of the body pain associated with prolonged rowing and provides comfort to your wrists.
The Naviskin Kayak Paddle is a beautifully designed and attractive paddle. Aside from being aesthetically pleasing, you will also be glad to know that it is available in five colors: black, blue, red, yellow, and white.
In order to go kayaking, it is essential to have the products that promise you fun, comfort, affordability, and safety. The Naviskin Kayak Paddle promises you all of these things with its amazing and unique features.
The aluminum body makes this paddle sturdy, lightweight, and durable. Its feathered blades make it suitable for use as it helps paddling easier for your wrists and back. It is also easy to store and transport, and it comes in various bright colors
Comparison With a Similar Product
Because water-based activities, such as kayaking and canoeing, are gaining more and more popularity, the market for sports goods required to practice them is increasing too. It is important to buy the products that not only suit your needs but are wallet-friendly and provide safety at the same time.
This is the reason we have decided to compare the Naviskin Kayak Paddle with another popular choice, the Carlisle Taboo Stand Up Kayak Paddle.
The Carlisle Kayak Paddle is 75 inches long. On the other hand, the one from Naviskin is 87 inches long. Thus, when it comes to the length of the paddle, the Naviskin Kayak paddle has the upper hand and is, therefore, more suitable for people who are taller.
When it comes to the choice of colors, the Naviskin Kayak Paddle wins. This is because it offers its users an opportunity to choose among five different colors. The Carlisle Kayak Paddle, in comparison, comes only in black.
When we compare the price of both of these products, the Naviskin Kayak Paddle has the upper hand once again since it is cheaper.
Kayaking is an easy and fun activity for relaxation and meditation. It not only offers mental health benefits but also keeps you physically fit. It is believed that people who kayak have a lesser risk of developing cardiovascular diseases and remain active for a long time.
This is the reason why it is crucial to get the right kayak paddle to make this activity more pleasurable for you. The Naviskin Kayak Paddle, with its amazing features, is a paddle worth considering buying.
All in all, in terms of versatility and ease of use, Naviskin Kayak Paddle is not only a better option than Carlisle Taboo Stand Up Kayak Paddle but is also the best choice among most paddles within the same price range.