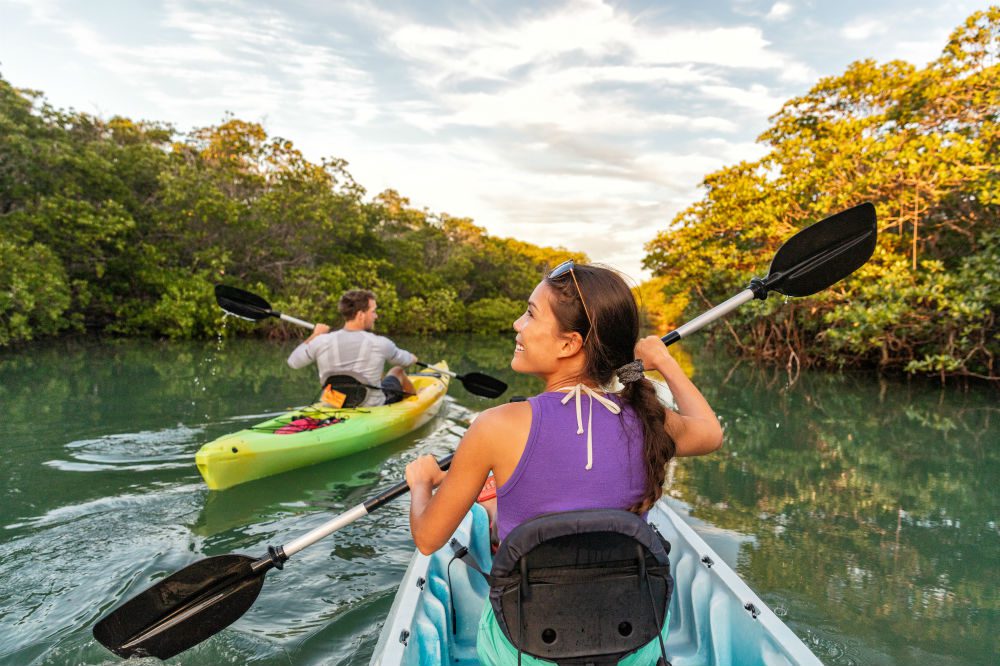 Are you the type of person who loves adventure, especially when it is related to water-based activities? Have you ever tried canoeing or kayaking and enjoyed the thrill that came along with it? Do these activities provide you relaxation and de-stress you after long working hours?
If your answer is yes to any of these questions, then you have come to the right place. Canoeing and kayaking do not only help you remain mentally but physically fit at the same time. However, to carry out these activities, you need the right kind of oars or paddles to make it easier and more fun for you.
This is why we have reviewed for you one of the most popular boat oars/kayak paddles available in the market, the Intex Dual-Purpose Paddle/Oars.
Intex Dual-Purpose Paddle/Oars Review
Intex Recreation Corporation focuses on manufacturing and providing wallet-friendly products that are comfortable, safe, and exciting to use. One of the company's aims is to reduce the number of fossil fuels it consumes in order to reduce global warming. Luckily, they have been significantly successful in these attempts.
The Intex Recreation Corporation is a U.S.-based company that offers a wide range of products. They offer anything from airbeds and pools to sporting goods and furniture.
Features
The Intex Dual-Purpose Paddle/Oars are a popular addition to their eye-catching collection. Could this be what's missing in your outdoor gear arsenal? Let's look at its features to see if this is indeed a good buy.
The set of Intex Dual-Purpose Paddle/Oars comes with two separate oars that are 48 inches long each. These boat oars are designed to be used for canoeing.
These two separate boat oars can be connected together to form a 96-inch paddle. The set comes with plastic connectors that connect the two oars together securely. As a result, you can use it for kayaking as well.
The Intex Dual-Purpose Paddle/Oars are made with aluminum, which makes it durable, strong, rigid, and smooth to use in water. In addition to this, aluminum forms an impermeable and protective oxide layer. This layer keeps them free from rusting and corrosion, which means they last for extended periods.
The Intex Dual-Purpose Paddle/Oars are lightweight, weighing around 0.32 pounds. This makes it easier and more efficient to use. You can paddle faster without adding a lot of stress to your body.
Other than that, the lightweight construction also makes it quite portable. What this means is that you can transport it and carry it around with comfort and convenience.
Moreover, this product comes with a retainer ring, which is used for the oarlocks. These connect the oars to the boat and act as a pivot. Thus, when you row, the force you apply transmits to the boat via the oars. This makes your boat move forward.
In addition to this, these dual-purpose paddle/oars have flat blades. These blades have a noticeable rib, which starts from the throat of the shaft and ends at one-third part of the blade.
The ribbed feature makes paddling easier by providing stiffness and strength. Other than that, it also provides a smooth flow of force from the shaft of the oar to the blade.
Summary of the Features
If you are looking for a product that you can use for more than one purpose, then the Intex Dual-Purpose Paddle/Oars are for you. This set is designed to be used separately for canoeing and can be joined together to form a kayak paddle.
Other than that, the aluminum body makes it durable, lightweight, and corrosion-resistant. This makes it one of the best options available for you.
Comparison With a Similar Product
You must not only look for comfortable and fun-to-use products but ones that are safe for your health and the environment as well. Since the market for these sports good, especially oars and kayak paddles, is enormous, you may find it confusing to choose between multiple options.
This is the reason why we have compared the Intex Dual-Purpose Paddle/Oars with another popular set, the Naviskin Kayak Paddle.
First, the Naviskin Kayak paddles have a length of 86 inches and a weight of 2.91 pounds. On the other hand, the ones from Intex can be joined together to form a kayak paddle that measures 96 inches and weighs 0.32 pound per oar.
Thus, the Intex Dual-Purpose Paddle/Oars is accommodating to people who are taller compared to the Naviskin Kayak Paddle. Other than this, the ones from Intex are also more lightweight comparatively and easier to use and transport.
Secondly, the ones from Intex have a dual purpose, as the name suggests. It can be used for canoeing as kayaking after connecting the two oars together.
In contrast, you can use the Naviskin Kayak Paddle for kayaking only. Thus, when it comes to versatility, the Intex Dual-Purpose Paddle/Oars has the upper hand.
Thirdly, the Naviskin Kayak Paddles have a feathered blade design. On the other hand, the Intex Dual-Purpose Paddle/Oars have a ribbed blade. The feathered blade design is more efficient to use as it reduces the wind resistance compared to the flat, ribbed design.
Lastly, it is important to consider the cost of both of these products. The Naviskin Kayak Paddles costs more compared to the product from Intex. Therefore, when it comes to affordability, the Intex Dual-Purpose Paddle/Oars wins once again.
Kayaking and canoeing are fun activities that reduce the risk of cardiovascular diseases and other health problems. Other than that, they add relaxation, fun, and adventure to your life, making them good for psychological health as well.
If you row professionally or as a hobby, it is essential for you to get great-quality sports goods that suit your needs. The Intex Dual-Purpose Paddle/Oars are one example of such products, offering a wide range of amazing features that guarantee you fun with comfort.