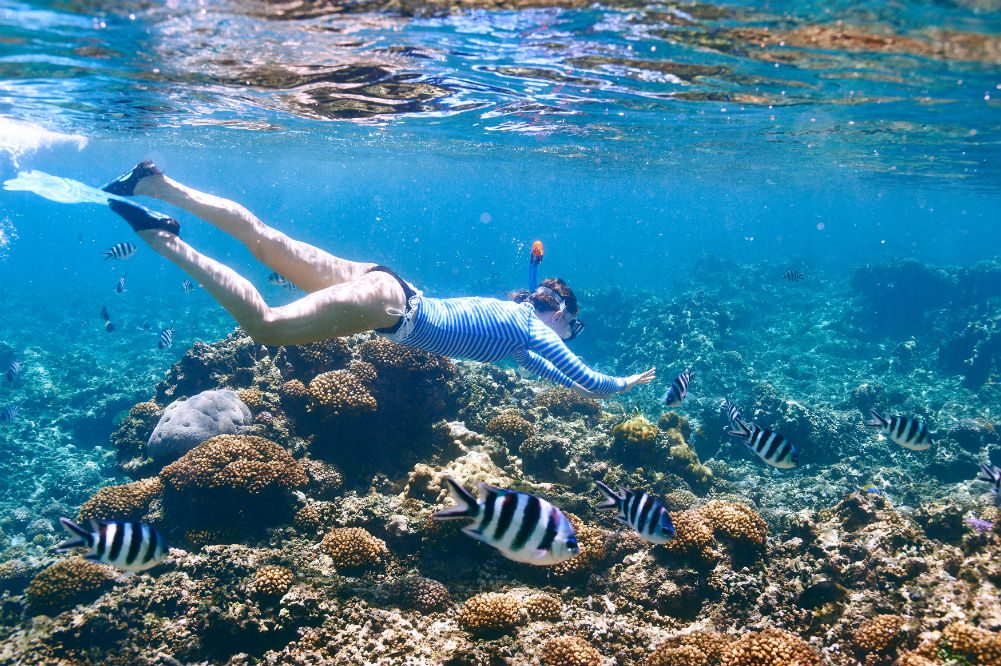 Ever dreamt about taking your swimming prowess to the next level? Using a set of good-quality flippers can really help you conquer the waves of the sea. At the same time, it will also allow you to do a swimming form properly, making it easier to swim for more extended periods.
Another benefit of using fins is the fact that your feet will be protected. How so? When walking or standing in shallow waters, you can actually choose not to remove your fins so as to keep it safe from sharp corals.
However, with the many options on the market, it is quite a challenge to find a pair that would meet all your needs. Then again, we are more than happy to do all the research for you. Through that, we found the CAPAS Snorkel Fins.
CAPAS Snorkel Fins
A lot of people say that these are so awesome that you will forget any other fin that you have ever used. Today, we are going to review this product in order to see if it is worth buying. First, let us talk about what it can offer.
Features
According to the brand itself, this set of fins is excellent for both snorkeling and swimming. This is the case because it provides astonishing comfort, extreme lightness, high performance, and easy kicking.
Just like what we mentioned before, this is great for swimming faster without exerting not much effort. Also, the use of these fins will pave the way for you to swim farther.
These fins are made of silicone materials. This means that they will not sink in both salt and fresh water. Therefore, you can use this pair of swimming flippers both for pool training or open waters.
In fact, the brand is so confident with its material choices that it is expected not to get any blisters even if you do not wear any protective covering on your feet while wearing these fins.
Just like other regular fins, this has an open-heel design. This means that it can hold your feet securely in water no matter your size. More than that, it also has an adjustable strap. With this, gone are the days when you will get blistered feet from wearing flippers.
Moving on to its size, these fins are small and compact, which will be perfect for those who are always traveling. They come in an array of colors, which include black, black and white, blue, blue and white, and red.
In addition, it has a sole that is sturdy yet flexible. The sole per se is hard, but it has some large inserts that are non-slip. As for the design of the blade, they are the product of hours of research and tests to be able to replicate how effortless fishes swim so as to aid the swimmer with their activity.
Wearing it is also easy as you only need to insert your foot into the pocket and lock in the straps. A buckle is the key for proper adjustment. This feature is effortless to master as it is just like adjusting a bag strap.
Pros
Lightweight and compact
Comfortable to wear for long periods
Sturdy yet comfy soles
Helps with faster swimming
Sole provides optimum support
Very flexible
Cons
The strap can come off
Clasps cannot hold properly
Not that durable
Sizing is a bit difficult
Tricky to adjust
Fins are shorter than usual
Summary of the Features 
The CAPAS Snorkel Fins takes pride in the fact that their material is high-quality. We found that there is real truth in that, as the silicone material can really protect your feet. But more than that, the blades of the fins can really help you swim with less effort too.
Moreover, the sole design is perfect for both beginner and skilled swimmers as it can adjust to your movements. It is very flexible and will not dictate the position of your feet.
In addition, these fins are very compact and lightweight, which will be perfect for constant travelers. Do keep in mind that the blades run shorter than regular fins. Of course, that might be an advantage or a disadvantage based on the way you swim.
On the other hand, there are some issues with sizing and the adjustability of both the straps and the clasps. You might find yourself consistently adjusting it to your preference as it can easily slide down or up to its default design.
Comparison with the Seavenger Torpedo Swim Fins
Let us now compare the CAPAS Snorkel Fins with the Seavenger Torpedo Swim Fins. First off, let us talk about their similarities.
Both sets of fins have the same blade design that can help the swimmer swim farther and faster with minimal effort. At the same time, they also both have an open-feet design so that almost any size will be able to use the fins.
Let us now move on to some of the unique features of the one from Seavenger. The Torpedo Swim Fins has an easy kick design, referring to the length of the blade that is an impressive 16 inches.
This is longer than that of the one from CAPAS, and as a general rule, the longer the fins, the easier it is to swim. On the other hand, this can also be viewed as a disadvantage because longer fins are not suited for beginner swimmers as there is greater pressure against the feet.
More than that, the one from Seavenger also comes with a mesh bag, so you really do not have to worry about where you are going to store your fins. Furthermore, it comes in so many colors too, which is significantly greater than the selections of the one from CAPAS.
CHECK LATEST PRICE ON AMAZON.COM
Verdict
Both the CAPAS Snorkel Fins and the Seavenger Torpedo Swim Fins are great contenders. In fact, it will be great if you can try both of them to really see which one will work better for you. But if we are just going to choose one, we would go for the Seavenger Torpedo Swim Fins.
In theory, the features of the one from CAPAS are really great especially the fact that it adjusts to your movements. However, that is at the expense of your strap adjustability. If you want the one from CAPAS to work for you, we suggest that you pack with you some clips or even tape so that the fit will be perfect.