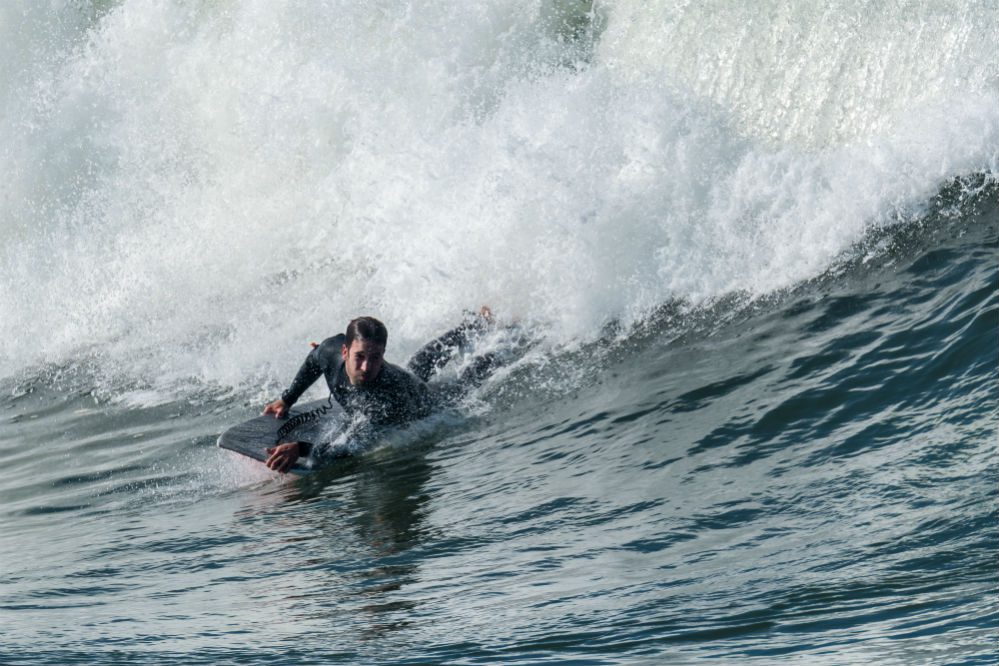 Having the best bodyboard leash is what is separating you from losing control while at sea. You might have watched surfing movies where the protagonists panic when the leash breaks off from the board, and they have every right to. Why is that?
The reason behind this is that if you get separated from the board, you have to swim to shore manually. If you have your board with you, you can again ride the waves or at least have something to hold on to as you float. More than that, it sucks when you need to purchase another board, right?
Best Bodyboard Leash: Our Three Picks
With that said, let us take a look at three bodyboard leashes and find out which one is the best of the best. We will go through their features, pros, and cons to give you a bigger idea of what they have to offer.
Keep on reading to find out!
1. BPS Storm Premium Body Board Leash
This bodyboard leash boasts a heavy-duty cord that is made using thermoplastic polyurethane. It is designed to be slim, but it can stretch out for up to four feet. Furthermore, its cuff is made of neoprene that is super soft so that you will not have chafes or blisters.
At the same time, the strap is adjustable so you can have the perfect fit. You also do not have to worry about it staying on because it has a lot of Velcro in it. Additionally, the tab for quick release is included in your purchase.
What's even more interesting is that you will not experience leash drag because the cord is coiled tightly. More than that the leash plug is flat-headed for added safety. There is also an extra leash if you need to replace your current one.
Lastly, this bodyboard leash comes in a wide variety of colors to choose from. These include clear/black, dark blue, ebony black, green, light blue, pink, red, and white.
Pros
Very strong
Comfortable to wear
Easy to maneuver
Easy to set up
Well made
Cons
Not that long
The wristband might separate from the leash
Cannot fit around biceps
The length of the screw is a bit short
The cord might get stretched too much
CHECK LATEST PRICE ON AMAZON.COM
2. Own the Wave Premium Body Board Leash
Let us now move on to the next bodyboard leash. This time, we have yet another cord that is made of heavy-duty polyurethane thermoplastic. Just like the previous one, it can also stretch for up to four feet.
At the same time, the cuff is also made of neoprene that is exceptionally soft. Having that type of material will prevent chafing and blisters. There is also a quick release tab, and the strap is adjustable so that you can have the right fit.
In order to avoid leash drag, the company ensured that the cord was coiled tightly. Moreover, it also comes with an extra leash plug just in case you have to replace the previous one.
Lastly, this bodyboard leash from Own the Wave comes in three colors. These are bright blue, bright pink, and ebony black.
Pros
Easy to attach
Fits perfectly
Comfortable
Professionally made
Durable leash
Cons
The coil is a bit thinner than regular ones
The strings tend to get tangled
Velcro might not be that strong
Limited color options
The plug can easily get detached
CHECK LATEST PRICE ON AMAZON.COM
3. TAGVO Body Board Leash
The last bodyboard that we are going to discuss has a few extra features than the previous two leashes. Let us first examine the additional feature with its cuff. This one has leash swivels, which means that tangles are minimized, and the pressure against your wrist is also not that aggressive.
As for its cord, it is made of polyurethane. Also, it has a thicker construction, which means that it will most likely create greater drags and less likely to break. More than that, there is also a rail saver that has a leash swivel. This one can protect your body when you get off the board.
Since we are talking a lot about swivels, for this one, the swivels are made of stainless steel that is flexible. It prevents any tangling and the wrapping of the leash around your leg. When it comes to the cuff, it is made of neoprene, which is padded with soft material so that you will be comfortable.
Furthermore, this leash can be stretched for up to four feet just like the others. Other than that, it can also be multifunctional as it has a good Velcro system, stitching that is reinforced, and a key pocket that is hidden.
Lastly, this bodyboard leash also comes with a waist carry that is waterproof. You can use this to store valuable items like your phone, wallet, and the likes.
Pros
Accessories that come with it are handy
Expertly designed
Fits boards perfectly
The coil stretches easily
Comfortable on the wrist
Cons
Not that strong
Can be a bit heavy
Cannot fit around biceps
Cuff might separate from the leash
The swivel can sometimes snag
CHECK LATEST PRICE ON AMAZON.COM
Which Is the Best One?
After taking everything into serious consideration, we have concluded that the best bodyboard leash is the BPS Storm Premium Body Board Leash. This might surprise you because this leash is very basic. Well, just like what others say, sometimes simplicity can be perfect.
If you think about it hard, you will come to realize that a good-quality bodyboard leash is the one that is able to hold you and the board together. Now, that is precisely what the BPS Storm Premium Body Board Leash can do for you.
Then again, just keep in mind that it cannot fit around the biceps, so it is best to be worn around the wrist. But even then, this fact will not really bother you because it is so lightweight and so comfortable to wear. You will not feel a lot of pressure against your wrist with this type of leash.
One thing that cannot be denied is the fact that it might separate from the leash. The truth, however, is that this can be remedied by simply setting it up correctly. For this one, you do not have to worry because there are straightforward and easy instructions to follow. Definitely, this is a bodyboard leash that you can trust.