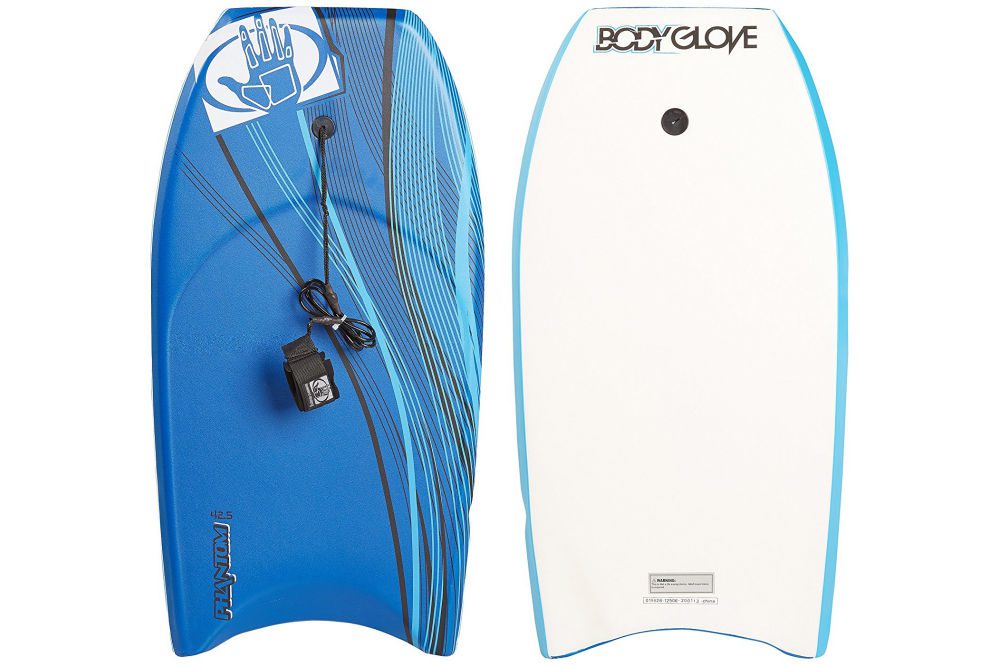 For larger and taller users, finding a bodyboard can be difficult because it must accommodate both their weight and height. What if you are looking for a board that will not just accommodate your weight and height, but also the skills you have in bodyboarding?
Look no further because the Body Glove 42.5 Inches Phantom Bodyboard is the bodyboard to look at first.
Features
Looking for a high quality bodyboard that won't hurt your budget that much? This bodyboard from Body Glove may be the bodyboard you are looking for. This bodyboard is made from the best materials in the market and looks pleasing to the eye as well.
Here are the features of the Body Glove 42.5 Inches Phantom Bodyboard that you should know before purchasing:
This bodyboard comes with an IXPE top skin for extra protection, durability and flexibility
The EPS core in this bodyboard ensures that it has high buoyancy, even if it is in high waves
It has a crescent tail for better speed and control in any wave
It comes with full channels which adds to the speed of this board when in the waves
It has a flat deck which can work with either drop-knee or standard bodyboarding
It also has 60/40 railings for extra traction and comfort
A urethane coil leash comes with this board to secure the board to the user
The bodyboard also has a pleasing design and comes with bottom graphic slicks
The list of features of the Body Glove 42.5 Inches Phantom Bodyboard is quite good and it clearly has everything a bodyboarder would need. However, before going to the next step in purchasing one, it is important to ask what it is like on the beach?
Check the reviews below for this bodyboard to see if it will indeed be the ride you or your loved ones are looking for.
Pros
This bodyboard has quite a lot of features that cannot be seen on other bodyboards available on the market. In terms of the board's size, it is quite wide and will fit larger users and those who are quite tall. Children will also have fun using this bodyboard and maneuvering it with ease.
It is also very light, making it easier to carry. Users would find it surprising that this bodyboard's bottom is quite hard, similar to a surfboard, while the deck is made from foam.
As a result, it is capable of withstanding any type of wave you may want to ride into when using this board. Although the board does not have a stringer, it does have a stiffer core to compensate for the part in question.
Users also love the fact the leash comes with a Velcro strap which can be adjusted depending on the user's preference, and it is quite comfortable to use.
Cons
Unfortunately, there are some things that must be considered before purchasing this bodyboard. Users must be very careful when using this board because some of the parts are not as durable as the rest of the board; some of these parts are the slicks, and the cord leash as it can easily snap or get unglued to the board.
Should any part of the bodyboard become damaged, returning the unattached part may be very difficult. Getting replacement parts for this bodyboard can be very expensive, including a replacement leash that can be requested, and there is no assurance the board will keep the part secure.
The slicks are also another thing that you should look at because there is a possibility the design is not the same as the one on the sales page. There is also a slight possibility that this bodyboard may cause the user to float in mild surf waves, and not carry the user in higher waves due to the quality of the board.
Bottom line
When it comes to bodyboarding, the bodyboard you possess must have the features necessary to handle any wave it is pitched against. With the Body Glove 42.5 Inches Phantom Bodyboard, not only will you be able to handle the waves like a pro, it will be one comfortable ride that you will not easily forget.