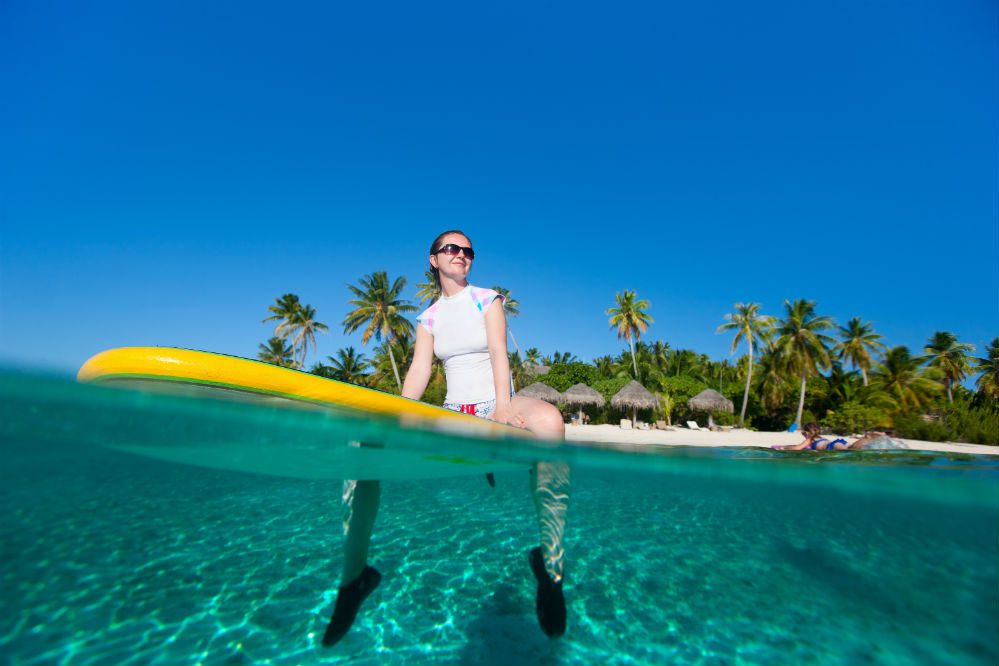 Stand-up paddleboarding or SUP is basically combined surfing and kayaking. It is like surfing in the sense that you are on a board surfing the waves, but it is also like kayaking because you are using a paddle to maneuver the board.
SUP is a water activity that has many variations. There's paddleboard surfing, yoga, and fishing among others. Paddleboarding is also considered a great full-body workout because it provides cardiovascular exercise and works out the arms, legs, and core as well.
There are various types of stand-up paddleboard, and one of them is the all-around inflatable SUP. The Bestway HydroForce SUP and Kayak is one of the many inflatable SUPs available in the market.
Bestway HydroForce SUP and Kayak
Bestway is a world-renowned company that aims to provide premium-quality inflatables. They have everything from portable spas to above-ground pools. Aside from those, they also offer camping goods and sporting goods.
Among their proud creations is the HydroForce SUP and Kayak. Let us take a close look at its features, pros, and cons to find out if this is the product for you.
Two-in-One Durable Paddleboard
The Bestway HydroForce SUP and Kayak is an all-purpose stand-up paddleboard and kayak in one. It offers premium features like the sturdy double wall composed of three-ply mesh-core and laminated PVC as well as a drop-stitch material that offer durability and strength. The military-grade materials and construction make this SUP virtually indestructible.
Optimum Directional Stability
This inflatable stand-up paddleboard and kayak is equipped with three modeled fins that allow directional stability. In addition to that, the non-slip traction pad provides maximum support.
Furthermore, this paddleboard is also equipped with deck handles and a steel tow ring for easy and convenient handling and transport.
Lightweight, Portable, and Versatile
This regular-sized stand-up paddleboard measures 120 x 32 x 4 inches when inflated and 19.69 x 11.81 x 33.86 inches when deflated. It weighs 34 pounds or 15 kilograms, making it light to carry and transport when you're out for an adventure.
This paddleboard has an extensive deck pad that makes it an ideal choice for beginners and those who are into paddleboard yoga, fishing, and surfing.
With the provided Air Hammer inflation pump, this inflatable SUP takes only a few minutes to set up. To guarantee safety and stability, you may check the psi using the included pressure gauge. Both the footrest and kayak seat are easy to install as well.
The set comes with a lightweight but durable aluminum oar, a kayak seat with backrest, a surf leash, one unit of Air Hammer inflation pump, and a pressure gauge.
The Bestway HydroForce SUP and Kayak set comes in a sleek and stylish bag. The bag is large enough to fit everything included in the set with some spare space for other essentials like sunscreen lotion. This heavy-duty bag also has padded straps for maximum comfort.
Summary of Features
In summary, here are the features that would get to enjoy if you invest in the Bestway HydroForce SUP and Kayak:
A stand-up paddleboard and kayak in one
Has fins to direct your movements
Non-slip traction pad and footrest
Easy-to-attach kayak seat with backrest
Made with high-quality materials
Pump and pressure gauge included
Roomy and stylish travel bag
Maximum capacity: 209 lbs or 94.8 kg
Pros
Durable and very sturdy built
High-quality materials and construction
Has a large deck space
Kayak seat comes with a backrest
Very stable once inflated
Comes with an air pump and gauge
Lightweight and very portable
Comes with a manufacturer's warranty
Cons
Only four inches in thickness
Low weight limit
Not advisable for heavyweight individuals
CHECK LATEST PRICE ON AMAZON.COM
Comparison with a Similar Inflatable Stand-Up Paddleboard
While this stand-up paddleboard from Bestway has some nice features, it is always good to have an option. Hence, let us compare this product with the Goplus Stand-Up Paddle Board in hopes to know which one would give you the most bang for your buck.
The Bestway HydroForce SUP and Kayak and the Goplus 10′ Inflatable Stand-Up PaddleBoard are both all-around stand-up paddleboards, but the former can also be used as a kayak. The six-inch-thick Goplus is relatively lighter with only 24 pounds board weight versus the four-inch-thick Bestway, which weighs 36 pounds.
Both are made with high-quality, sturdy PVC using military-grade drop-stitch construction, making these two good choices when it comes to durability. With wide decks, both SUPs offer optimum stability, making them ideal choices for any paddleboarding activities. Both paddleboards are roomy enough to hold two persons each.
In terms of maneuverability, the Bestway has better directional features, thanks to its three molded fins. The other stand-up paddleboard has only one removable fin, which makes it more difficult to maneuver. The two SUPs both come with a lightweight aluminum paddle, which is ideal for any paddleboarding activities.
Both sets include a carrying bag and an air pump. However, the Bestway paddleboard also comes with a pressure gauge to measure psi. To combat this, the Goplus has a repair kit included in the package.
What really sets the Bestway HydroForce apart is the fact that it can also be used as a kayak. It comes with a kayak seat complete with backrest, making it a versatile and efficient choice.
Verdict
With dozens of inflatable stand-up paddleboards available in the market, it can be difficult to decide which one to invest in. However, with the many features that the Bestway HydroForce SUP and Kayak offers, picking one that fits your requirements will be a lot easier.
With its standout features, such as the three molded fins, non-slip traction pads, and safety deck handles, this all-around paddleboard is a considerable choice. Add up the high-quality materials and military-grade construction, and you are good to go. This paddleboard also doubles as a kayak and can be set up simply by installing the provided kayak seat.
For beginners, this is probably the best choice. It is easy to set up using the included air pump, plus it is wide enough to offer balance and stability to those who are just starting to learn SUP techniques. Moreover, this is also ideal for backpackers or travelers as it comes in an easy-to-transport travel bag. This makes it possible to bring the paddleboard with you to any part of the world.
Overall, the Bestway HydroForce SUP and Kayak is a great choice and will surely match any inflatable stand-up paddle board of its kind.