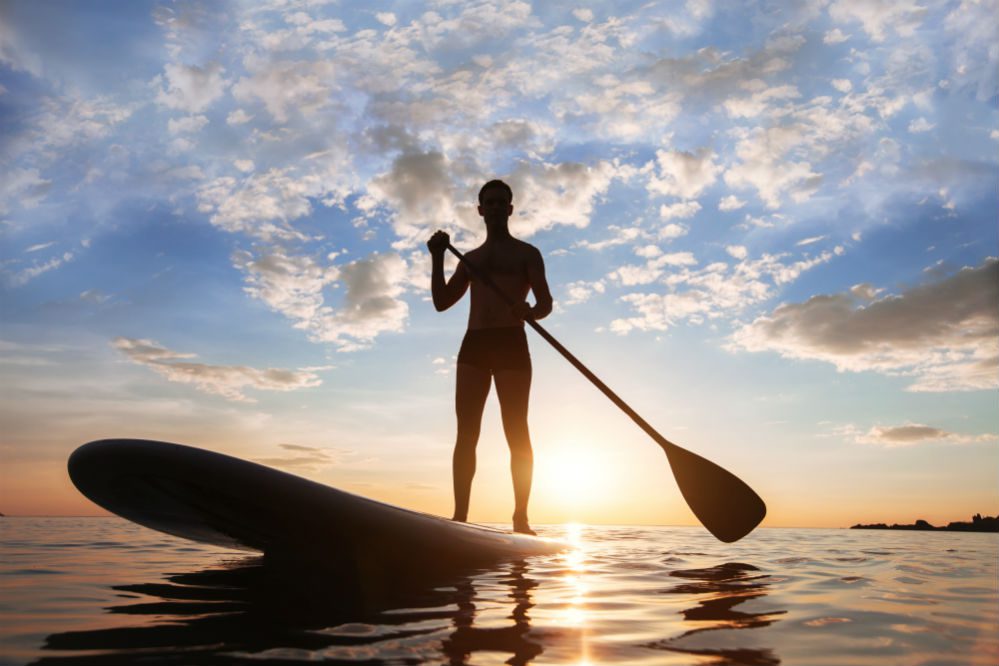 One of the best activities that you can do as you enjoy your day on bodies of water (beaches, rivers, and lakes) is to ride paddleboard. Unlike surfing, paddleboarding is easier to do, and it does not require that much physical activity. Even children of a certain age can enjoy paddleboarding across calm waters.
Stand-up paddleboards, also known as SUP boards, are also easily used and can be ridden slowly. However, it can get a little tricky to find a good paddle board that performs well and does not break the bank at the same time.
There are several stand-up paddleboards available out there, and among the best ones are inflatable paddleboards. These boards can be inflated when used, then deflated and rolled up for easy transport and storage afterward. One example of this is the Tower Inflatable Stand-Up Paddleboard.
Tower Inflatable Stand Up Paddle Board
Aesthetically, the board has a sleek and simple design. It has a white color with silver, gray, and black accents. The board, mat, and fin of the board are also black in color. While the brand makes its own bags for the Tower paddleboard, it has to be bought separately.
Features
This product measures nine foot and 10 inches long, 32 inches wide, and six inches thick. The board weighs 25 pounds or 11.3 kilograms, but along with its accessories, the entire package weighs about 32.8 pounds or 14.8 kilograms.
The board features three bottom fins to improve speed, handling, and steering. These fins also make the board easier to use for kids and teens.
This board is made from military-grade material. It is crafted using six-inch-thick PVC material and drop-stitch construction to ensure extra durability.The surface of the board is made with a soft non-slip mat. This makes it easier for beginners to use the board and maintain their balance.
The materials used in this inflatable board makes it just as durable as solid fiberglass boards. However, inflatable paddleboards are much safer, especially for kids, because they have a softer surface, and they can also be a cushion when kids slip or fall off the board.
Also, when the board flips over in rough water, you don't have to worry about a heavy rigid board flipping over and hitting you over the head.
This paddleboard is inflatable, which makes it very portable. When the board is deflated, it is lighter and easier to store. When deflated, the board can fit in one large bag. The pump, fin, and paddle can all be disassembled and placed into small compartments or pockets of your bag.
This Tower board also comes with its own three-piece fiberglass paddle, a high-pressure SUP pump, a high-end Tower-branded diamond-grooved deck pad, a handhold strap, and a roll-up strap.
Pros
Comes with an easy-to-use manual air pump with PSI valve
Included straps and handholds on the surface of the board
Very stable and secure
Easy to store and transport
Not a hassle to assemble or set up
Cons
A little expensive compared to other boards
Does not have its own bag
The air valve can leak air and get loose
Can be a little heavy for children
CHECK LATEST PRICE ON AMAZON.COM
Summary
The Tower Inflatable Stand-Up Paddleboard is a product that is perfect for every member of the family. It has a large, single fin at the bottom, a wide base area, and is made with durable materials. It is also designed with safety features so as to avoid accidents.
When you buy this board, you also get to enjoy a high-quality paddle that can also be disassembled for easy storage. The board itself is inflatable and can be rolled up, making it very easy to carry around.
Comparison
We compare the Tower Inflatable Stand-Up Paddleboard with the Isle Airtech Inflatable Explorer Stand-Up Paddleboard. Both paddleboards are made with the same quality materials, and they are both designed for durability. Much of the structure is also similar in that they both feature three bottom fins, have extendable paddles, and come with manual air pumps.
The Isle Airtech board has a few advantages, though. First of all, it has more accessories, such as the coil leash, a sticker pack, and a manual. What's more is that it also comes with its own custom-made rucksack to store and carry the deflated board.
However, in terms of dimensions and performance, the Tower paddleboard is still the better choice. Its air pump is of better quality, which even features a PSI valve to gauge the air pressure in the board. The paddle is also made with better materials (fiberglass) than the Isle Airtech board.
The Tower board is also a very thick board compared to other products in the market. This thickness, combined with the non-slip surface on top of the board, ensures safety and stability. The Tower paddleboard is also much more affordable, giving it the edge over its counterparts and making it one of the best paddleboards in the market.
Conclusion
The Tower Inflatable Stand-Up Paddleboard is one of the best SUP boards available in the market today. Despite being an inflatable board, it is actually a very thick board, and it can take the rigors and punishment of any body of water or any physical activity of its passenger.
The materials used in the making of this paddleboard ensure that the passenger is safe and remain afloat. These materials are also what makes this paddleboard last even after years of rugged use.
The Tower paddleboard is a very simple board with a subtle design. The white and gray colors are not as loud and bright as the other boards on the market, but what this board lacks in style, it more than makes up for in substance and functionality.
The Tower paddleboard is a quality water sports product that is safe and durable, but it can also be a great source of fun and adventure on the water and under the sun. In the end, this paddleboard bundle really does ensure that you get the most value out of your money.