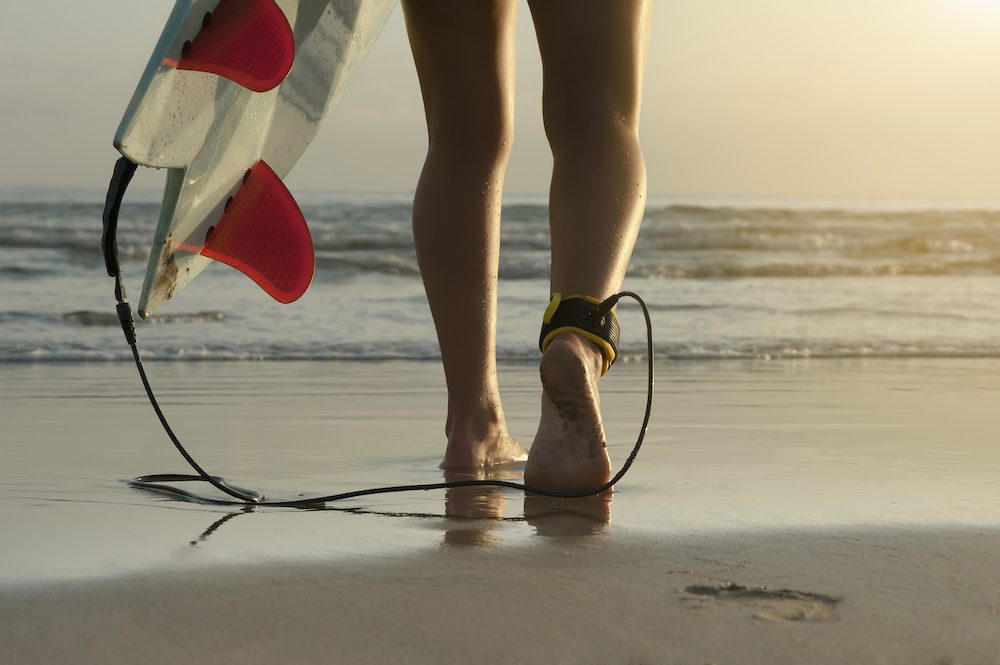 Surfing is not an easy sport. You need skill, training, passion, and more importantly, the right gear to challenge the sea. When many surfers give more importance to surfboards and what they need to wear while surfing, another important accessory that can make surfing easier and safer is surfboard leash.
If you are looking for the best surfboard leash out there, we have you covered. Even though almost all surfboards leashes appear the same, they are made of different materials. Also, there are other factors like color, brand, length, and more to look for when choosing one.
BPS 'Storm' Ultralite Surf SUP Coiled Leg Rope
Ho Stevie! Premium Surf Leash
Unigear Premium SUP Leash 
Best Surfboard Leash Reviews
On the lookout for a surfboard leash that you can rely on? We have listed here the three best options that can offer you the best value for money. Keep reading!
1. BPS Storm Ultralite Coiled SUP Surf Leash
BPS, also called Bullet Proof Surf, is a family-run business based in New Zealand. The small but global brand offers a wide range of surfing products in addition to surf leashes, like SUP paddles, surf traction pads, inflatable SUPs, and other surfing accessories.
Features
While you can choose from a wide range of BPS surf leashes, their most popular and acknowledged product is BPS Storm Ultralite Coiled SUP Surf Leash, for all the right reasons.
Available in four different colors, including black, blue, pink, and white, you can choose one that meets the color of your surfboard or outfit. The leash consists of long 10 feet coiled cord, a leash string that ties to the board, and a comfortable ankle cuff.
To make it more convenient for you, the leash cuff also comes with a hidden small pocket to keep small items like keys. The Velcro strap is also very handy and comes with an adjustable strap for a better fit. The cuff also features a quick-release tab.
You don't want weight on you when surfing, do you? The more weight, the more difficult it is to balance. This is exactly why this leash by BPS is super lightweight.
The 5.5 mm cord, which is also super thin, is made of thermoplastic polyurethane. This is one of the strongest materials out there used in surfing leashes. This is why it is thin, lightweight, but still sturdy. Even the connector to the cord is made of the same material instead of low-quality plastic like some other products.
The ankle cuff is made of padded neoprene to add durability and comfort. The swivels are made of double stainless steel, which makes it super strong. Also, the coil is made of braided wire with a dual rubber and plastic coating.
2. Ho Stevie! Premium Surf Leash
As the name reflects, Ho Stevie! was founded by a passionate surfer, Steve, in the U.S. city of San Diego. However, most of their products are produced in China, including this one.
The goal of the company was to produce surfing products that can match the quality offered by big brands but at a lower price to help other surfers. The idea was a success as Ho Stevie! expanded quickly, both in revenue and the products offered.
Features
Even though it is still a small company, it offers a wide range of products like surf ponchos, surfboard socks, changing mats, surfboard fins, surf leashes, and more. The Premium Surf Leash is one of their popular products, and here is why.
This affordable surf leash is available in four different color options: blue, black, green, and orange. You can also choose different lengths from six feet to nine feet, making it easy to buy according to the length of your surfboard.
The package also comes with a cord and leash plug string, which can be attached to your surfboard with ease. The flexible surf leash is seven mm thick, making it lightweight yet strong.
The leash is made of sturdy material that makes it super strong. Swivels are made of stainless steel, so you don't have to worry about leash tangling. The 1.5-inch wide ankle cuff is equipped with a key pocket and padded neoprene to make it secure, convenient, and comfortable at the same time.
3. Unigear Premium SUP Leash
Unigear is the largest brand out of the three we have listed in this article. The U.S.-based brand is known for its high-quality survival and other outdoor sports gear for various activities, including camping, water sports, backpacking, winter sports, and more.
Features
Founded in 2014, Unigear is constantly widening its product range, offering highly reliable water sports gear and accessories, including surf leashes like Premium SUP Leash designed for flat water paddling.
This one is a 10-foot-long coiled surf leash, which means it is a good fit for medium to large size surfboards. You can also choose from 11 different color options, as well as an option to buy a pouch bag.
The surf leash also comes with triple wrap rail saver, along with double over ankle cuff. The cuff comes with a small hidden pocket. You will find it comfortable and stretchable as the flexible cord is surrounded by TPU plastic and a soft sponge.
You can also choose to buy the waterproof touch-friendly case along with this product, which can help you keep your wallet and phone safe while you surf.
The seven mm cord is made of urethane cord to make it strong yet lightweight and flexible. The stainless steel swivels further to add to the strength of the leash. Connection hardware is also made of stainless steel.
Final Verdict
Even though you can choose the best surfboard leash out of the above options, the final decision depends on your own unique needs. If you prefer coiled leash, Unigear Premium is a good option due to the color options and availability of the waterproof phone case.
However, if you want to choose from different sizes according to your surfboard size, the Ho Stevie! Premium Surf Leash is a good, affordable option for you.