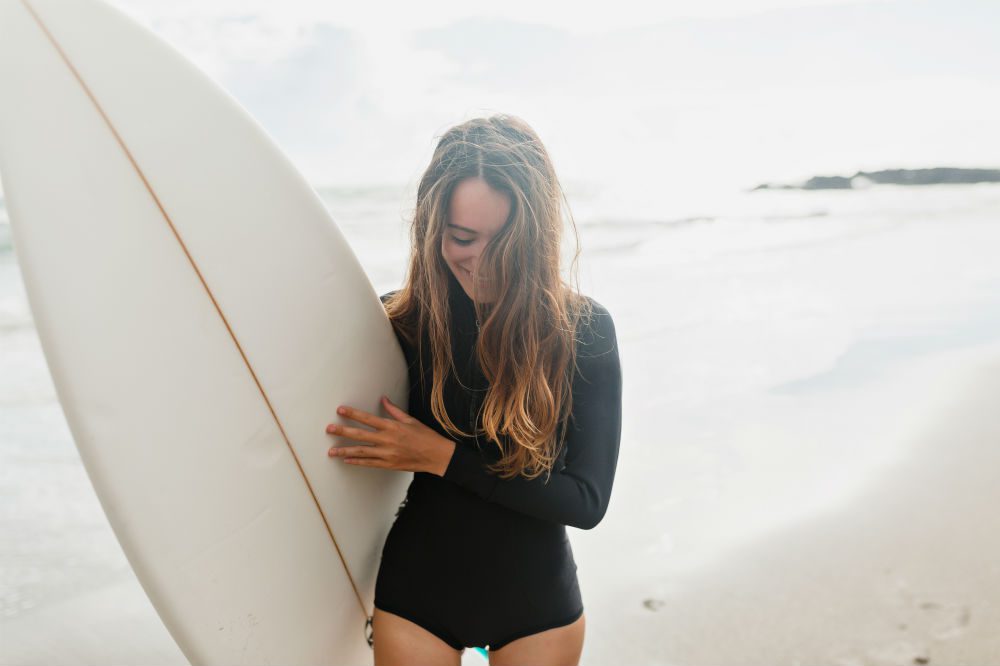 Skimboarding was developed in the 1920s in California, USA. It has become a popular, fun activity among water sports enthusiasts and beach-goers.
Basically, skimboarding is riding along the shorelines on flat boards called skimboards. It can be performed flatland style on inland bodies of water or on a wave on the beach. When doing this activity, you need to equip yourself with the best skimboards that fit your body structure and skimming level.
Skim boards look like surfboards, only smaller and without the fin. They come in different sizes, weights, designs, and materials. When choosing the right skimboard, consider your body weight, skimming speed, skill level, and break type. Some require waxing, while others don't. It is mostly a matter of personal preference and comfort.
30 inch Small Beginner Deluxe Wood Skimboard w/EVA Traction Pad for X-Grip
BPS Skimboard 30″ – 2018 – Improved Grip – Light Blue
Victoria Skimboards Woody XL
Best Skimboards for Different Skill Levels
Because of its popularity, hundreds of skimboards are being manufactured and sold all over the world. The choices vary, which is why it can be overwhelming finding just the one. To help you out, here are complete reviews of three awesome skimboards.
1. BeachMall Deluxe Wood Skimboard
The BeachMall Deluxe Wood Skimboard is within a mid-price range and comes with various features and advantages. It is available in seven different colors and designs. Know more about what this BeachMall skimboard can offer.
Features
Made of a solid wood core, the BeachMall Deluxe Wood Skimboard is durable and can withstand strong waves and shocks. This is not an ordinary skimboard made with traditional wood coated with a laminate. Instead, the top and bottom parts are coated with a hard protective resin that makes it more durable.
The upper surface of the BeachMall Deluxe Wood Skimboard is designed with a diamond-shaped grove for improved traction. It is layered with an EVA traction pad that not only makes it comfortable but improves its grip at the same time. It has a tail shape that makes it easy to maneuver in the water.
The BeachMall Deluxe Wood Skimboard is ideal for people who weigh under 140 pounds. It is a 30-inch skimboard that weighs 3.2 pounds. This makes it very easy to carry around and store away.
2. BPS Gator Skimboard
The next skimboard we are going to take a close look at is made with a special kind of foam and a durable core. What else does the BPS Gator Skimboard have?
Features
The BPS Gator Skimboard is made using strong plywood and is designed and tested in New Zealand. It has an epoxy finish to protect it from water damage and breakage. Paired with the so-called "gator grip", which is made of one layer of EVA foam, it maintains a secure grip even when wet.
This model is a low-maintenance skimboard because it does not require constant waxing. A raw wood skimboard alternative is also available for users who would want to customize grip or prefer to apply wax to the board.
The BPS Gator Skimboard is a versatile board designed with a generous rocker to support gliding action for more speed, control, and maneuverability. It perfectly fits any type of skimboarders from beginners to professional. It has a 30-inch size and can support riders 80 pounds and below.
The BPS Gator Skimboard comes with a package that consists of a user manual and easy-to-understand instructions on properly getting on the board. It also comes with basic skimboarding tricks. The manufacturer makes sure of customer satisfaction too. In fact, the BPS Gator Skimboard comes with e-mail check to guarantee it has arrived in excellent condition. The product comes with a 12-month warranty on parts, ensuring that it's worth the money.
3. Victoria Woody XL Skimboard
There are two types of riding style: shoreline and flatline. When it comes to choosing the best skimboards, it would be ideal if it supports both riding styles. One skimboard that has this quality is the Victoria Woody XL Skimboard.
Features
The Victoria Woody XL Skimboard is a high-quality entry-level skimboard. It is the ideal choice for kids and beginners who want to try out skimboarding for the first time.
Made with a mahogany core, this skimboard is durable and doesn't easily break or gets damaged. This core is then paired with a fiberglass bottom, which helps ensure that it will last for long periods of use.
Compared to other skimboards made of cheaper woods, this Victoria Woody XL Skimboard easily slides, does not warp easily, and stays durable. With its exceptional shape, it is great for rockers and small wave bashing for a longer riding or sliding experience.
The Victoria Woody XL Skimboard features handmade art that adds to its unique style. Lastly, it is measured in at 48.5 by 21.3 inches, and it has a maximum weight capacity of 180 to 220 pounds.
Bottom Line
The three skimboards all have excellent quality, features, and advantages that best match different user needs. They vary in price too, which is also an important consideration. All of them are durable and prevents breakage, although they are made of various materials.
Among these featured skimboards, the BPS Gator Skimboard stands out the most. For a mid-ranged price, it has features and pros that give value to money. It is intended for entry-level as well as professional skimboarders, although it may not be ideal for kids because it has a medium size.
On the other hand, the BeachMall Deluxe Wood Skimboard is the best choice for kids and those with small body builds. It has almost the same construction and traction pad with the BPS Gator Skimboard, but the fact that the latter is designed and tested in New Zealand makes it the better choice for any kind and skill level of skimboarder.