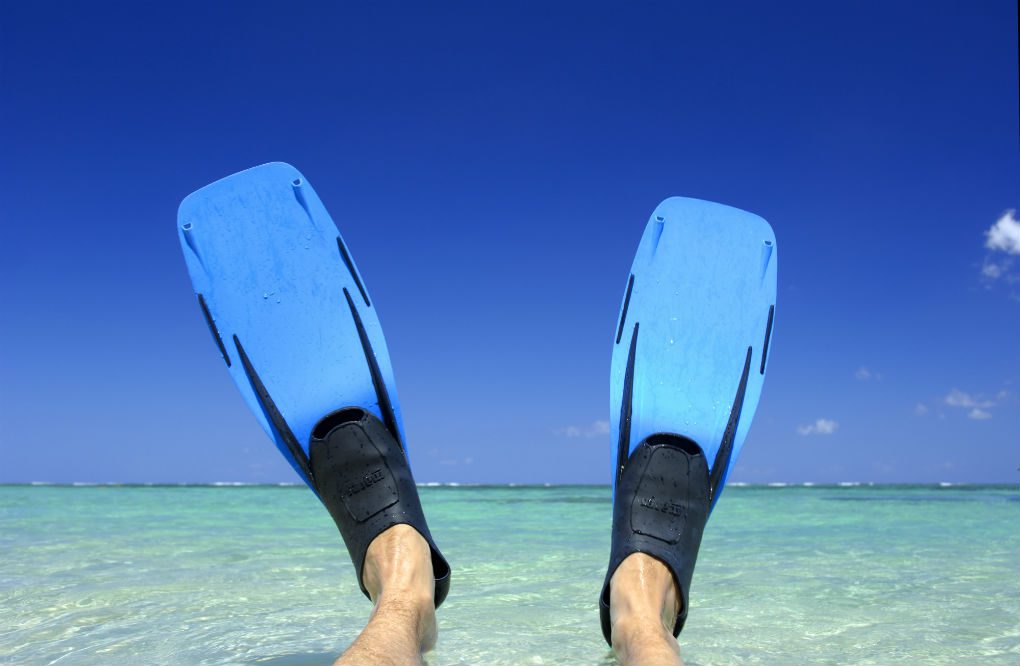 If you are a diver, the equipment you need to pay a lot of attention to is the fins. If you are planning on diving deep into the ocean, an ordinary pair of fins just will not do it.
You will need the absolute best that provides ample thrust with every kick and does not weigh you down. They need to be like the fins found on fishes, and one product that claims to provide such is the Hydro Tech 2 Bodyboard Fins. Let's dive deeper into its features, pros, and cons to see if it really lives up to all the hype.
Hydro Tech 2 Bodyboard Fins
One company that always dares to come up with innovative products is Hydro. Here we have their revolutionary Hydro Tech 2 Fins that has gained a lot of popularity.
Features
The Hydro Bodyboard Hydro Tech 2 Fins have been redesigned to fit your feet better and provide natural leg movements. The fins have separate molds for left and right to provide better comfort, as well as to support the movement of each foot.
These fins use a T Form which reduces the effort needed to create the thrust. T Form is a revolutionary silicon-based material developed by Hydro which is flexible but light. Unlike rubber fins, this gives a more comfortable fit.
The patented V-rail design also improves thrust by providing a bigger surface area. They are designed in a way that every kick gives extra thrust.
They feature drain holes on the front or toe which makes sure no sand gets trapped in the fin. In fact, the design of these fins makes sure no water gets inside. Since it does not fill up, there is no way they can anchor you down.
The ergonomic asymmetrical foot shape supports swimming and makes it incredibly comfortable for your feet. The fins do not just flex vertically but can also twist side by side when you are kicking. For all these reasons, the Hydro Tech 2 Bodyboard Fins has won the Australian Design award.
Kick-to-Thrust Ratio and Buoyancy Rate
The kick-to-thrust ratio is also unsurpassable. However, the fins have a buoyancy rate of below neutral which means they will not float on water. If they come off, you might not be able to salvage them.
These three-pound fins come in three colors that include white, black, and blue. When it comes to the size, it ranges from extra small to extra-large.
The XS is for men shoe size four to five, the small is for men shoe size six to seven, the medium is for a size eight to nine, while the medium-large is for size 10 to 11, the large is for size 12 to 13, and the extra-large for size 13 to14. You should check for corresponding shoe sizes to see which one suits you best.
Pros:
Innovative material that enhances performance
Lightweight and ergonomic fit
Mimics the fins of animals
Contoured ankle strap
Highly comfortable
Cons:
Does not float
Size runs a bit smaller
Summary
The Hydro Tech 2 Bodyboard Fins has been a result of extensive research done by Hydro. These fins use a newly developed rubber-like material that is different from conventional rubber fins.
They reduce thrust on your part and never fill up with water or sand. Swimming with these on in the deep parts of the ocean is going to be a breeze.
The fins fit snugly thanks to the material used as well as the design that resembles the actual shape of the foot. It comes in different sizes that correspond to men's shoe sizes which means these are mostly for men. Women may be able to work with the extra small or small size.
The only problem you might face is that they would not float. However, the likelihood of this happening is very low since these fins stay on. That is the whole point behind the unique material T Form.
Comparison
We have come a long way when it comes to diving equipment and gear. Companies that manufacture them have gone out of their way to produce stuff that really helps you when you are in the ocean.
That said, there can never be enough choices. You might just get confused as to which one you should go for. To ensure that you are really choosing the right one, let's compare these fins with another pair from a different brand.
Here we have Cressi Frog Plus Fins. Cressi is a reliable name in the world of water sports and diving. The Frog Plus Fins is constructed using patented three-material molding technology, allowing it to stay flexible in different water temperatures.
These fins are also designed to increase thrust by 20%, which is similar to the Hydro Tech 2. However, the latter uses its design (patented V-rails) and materials both to achieve this purpose.
The blade inserts are silicone based on the Frog Plus Fins, and these fins are good for both snorkeling and scuba diving. Regarding price and quality, there is not much difference between the two products.
You can expect great performance and durability from both. That said, the Hydro Tech 2 fins are truly more comfortable to wear. Since they are quite light, they do not anchor down and drain the water efficiently.
Verdict
Professionals recommend and use the Hydro Tech 2 fins for a reason. They have been able to eliminate the problems usually faced by divers with their fins. The T Form material is an excellent innovation by the company.
If you want to invest in high-quality fins that can help improve your performance, these should be your choice. In that sense, they are good value for money.
They would virtually last forever provided you do not lose them in the ocean. Do make sure though that you get the right size to ensure that never happens to you.
With the advanced features and patented design, what really sets them apart is the comfort and ergonomic design. Despite being snug, you will not feel a thing. You will expect increased thrust with every kick, so these are highly recommended for all kinds of divers.