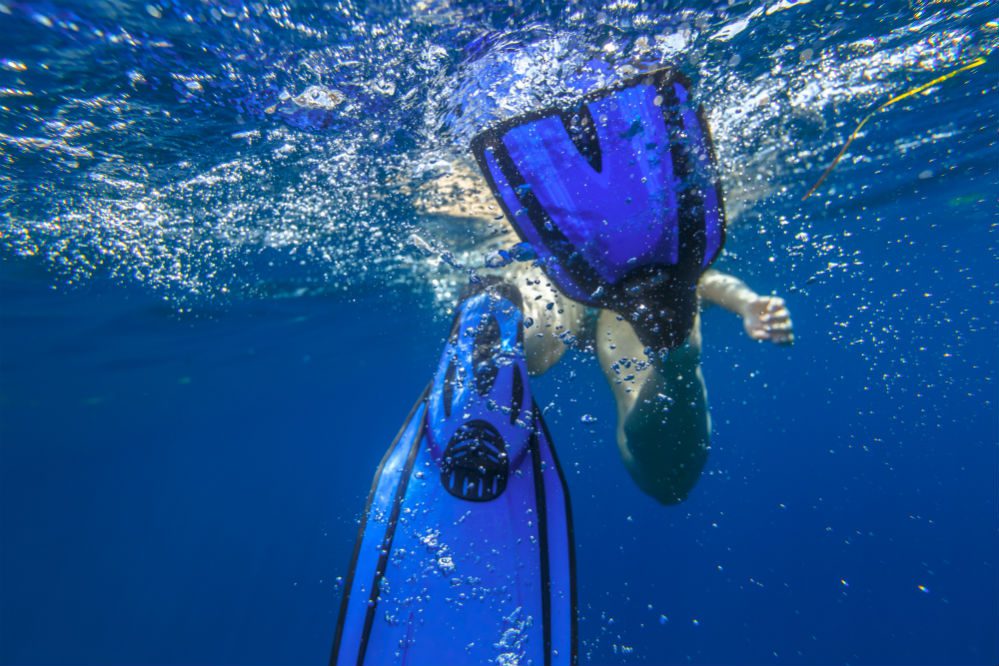 In case you are already a swimmer or a diver or enjoy taking part in other extreme water sports, you probably understand the importance of correct swim gear by now. It is obvious that when you go underwater, an ordinary set of equipment will not suffice. You literally need the best of the best since one cannot afford to take risks, particularly in a setting like that.
You should be extra careful, especially when it comes to flippers and swim fins. If you have at any point used a swim fin, you realize how valuable they are in the water. They cannot only allow you to give a strong kick but also increase your kick tempo. They also help improve your lower leg adaptability.
Most often, the weakest aspect of a swimmer's performance is their kick. A pair of excellent swim fins can easily take care of this. Here is a great product by Seavenger that offers you exactly what you should look into great fins.
Seavenger Torpedo Swim Fins
Seavenger is a well-known USA-based brand that is recognized for their high-quality and wide range of footwear and wetsuits. The Torpedo Swim Fins is one of their most popular products and for all the right reasons.
Features
After careful evaluation of the Seavenger Torpedo Swim Fins, here are the things we found:
The Seavenger Torpedo fins are designed with some of best materials, which are surprisingly also lightweight. This goes to show that Seavenger understands the risks and dangers one can come across in the deep waters.
Seavenger has designed the Torpedo flippers with tough but comfortable material. This is why these fins can maintain their durability and flexibility even in the toughest of waters.
The Seavenger Torpedo Swim Fins is not just strong for keeping your balance inside the water. The best part about these fins is that they also come with their very own adjustable straps. These straps can make your experiences of wearing the fins and taking them off very remarkable and comfortable.
What's more? Wearers also get to benefit from the two, easy-to-click buckles which make slipping in and out a natural process.
The Seavenger Torpedo Swim Fins is 16 inches long, which makes it an ideal flipper for swimmers looking for fast speed and comfortable mobility under the deep waters.
The best thing about the Seavenger Torpedo Swim Fins is that they are available in eight beautiful colors. It offers a vibrant range of black, blue, dodger blue, gray with black, gray with dodger blue, orange, red, and yellow.
Simple and Easy-Kick Innovation
Another great thing about the Seavenger Torpedo Sim Fins is that it makes it simple to alter course rapidly and even moderate vitality as you drive forward. With strength that just keeps on increasing and extraordinary adaptability, these flippers can be a perfect present for amateurs and even experienced jumpers.
When it comes to sizes, Seavenger Torpedo Swim Fins has them all. For men, the smallest sizes go from one to four. The medium-sized flippers start from 4.5 and end at 8.5 inches, while the large and extra-large flippers are available from nine to 13 inches.
For women, the smallest sizes go from two to five. The medium-sized swim fins range from 5.5 to 9.5 inches, and the large and extra-large swim fins range from sizes 10 to 14 inches. Lastly, for children, sizes available are from 10 to 13 inches.
Pros:
Provide extreme comfort
Can be worn barefoot and with fin socks
Snug fit
Can be worn for a long time
Comes carry-on bag
Suitable for all watersports
Extremely lightweight
Cons:
Flimsy and breakable buckles
Require prudent use
Incapable of floating as they sink very easily
Summary
The 16-inch Seavenger Torpedo Swim Fins can be an ideal choice for everyone interested in partaking in extreme water sports, especially snorkeling, bodyboarding, diving, and swim training.
These fins are snug around the feet, and the adjustable straps and buckles ensure that they will be your source of support under the deep waters. They may be ideal in protecting you from any underwater dangers. Do note though that you have to handle the buckles with care since they can break easily.
The comfort provided by these fins is unmatched. Available in a wide and vibrant range of color accents, there's something for everyone! Worried about not being able to find your size? Don't be! Seavenger offers something for every man, woman, and child.
Comparison
Let us compare the Seavenger Torpedo swim fins to another set that people are raving about, which is the Speedo Swim Fins. Speedo is another well-known company which makes the best innovative designs and fits which have been refined for your active lifestyle.
When compared to the Torpedo fins, the Speedo fins are far pricier but offer orthopedic comfort and longer blades. Additionally, even though the Speedo Swim Fins is available in way more colors than the Seavenger fins, the con is that they are made of rubber which isn't exactly a lightweight material.
You also might need to wear fin socks under the Speedo fins, while the Seavenger Torpedo Swim Fins can definitely be worn barefoot without causing any discomfort. That being said, the most significant advantage that Speedo fins have over Torpedo fins is that they are capable of floating, whereas, in most cases, the Torpedos sinks if they come off underwater.
Verdict
Experienced swimmers and professionals recommend the Seavenger Torpedo fins, and this is not without reason. Seavenger has managed to take care of most of the issues, such as slipping and the fins coming off, that people used to face when it comes to swimmer fins.
With their snug fit and innovative design, these cost-effective Torpedo fins can actually be an excellent investment. They also provide a snug fit which does not really bother your feet, no matter how long you are wearing them.
These fins will not only help your ability to kick, but also increase your speed and refrain from holding you down. It looks like Seavenger really believes in "Comfort Over Everything".