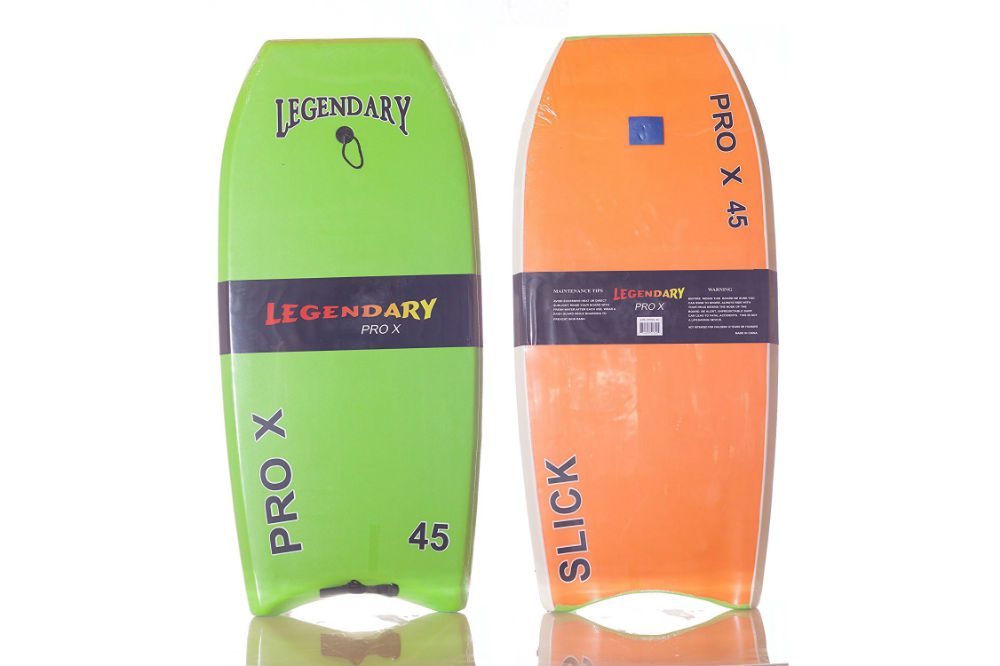 Bodyboarding is a water sport that is beneficial to one's mind and body. So if you want to enhance your mental and physical well-being, catching some waves may be a good thing to do. It is a fun activity that you can easily enjoy with your loved ones as well.
If you want to buy a bodyboard but don't have a big budget for it, you may want to take a look at the Legendary Pro X Slick Bottom Bodyboard. It comes with a variety of benefits that could fit your needs.
Features
It has different sizes for different weights: 45 inches for 250-pound riders (six and a half feet tall), 41 inches for 125-pound riders (five feet, eight inches tall), 37 inches for riders who weigh 50 to 70 pounds (or four and a half feet tall), and 33 inches for riders who weigh 50 pounds.
All sizes have a width of 19 inches and are 2.5 inches thick.
It includes a leash (velcro strap) that can be attached to the users' wrists.
It comes with a hard bottom.
It needs to be covered with a towel when not in use.
Pros
The leash helps secure the board by keeping it nearby.
It is of good quality.
It comes with a good price.
It provides many size and color options for potential buyers.
It comes with enough space for additional gear.
It has the capacity to keep up with the expensive brands.
It generally works well.
Cons
The product has the tendency to show some minor leash concerns.
The product tends to have some minor bubbling issues.
Summary
The Legendary Pro X Slick Bottom Bodyboard seems to be a promising product, with all its good features and benefits. First off, it does not limit its buyers' choices, for it comes in different sizes and colors.
It also includes features that protect the board and provide a lot of convenience to its users. It also has enough space for additional gear.
Generally, this product works well and boasts good quality. It is even comparable to other similar items that are more expensive.
Needless to say, the combination of high quality and good price appeals a lot to customers, for both traits are not easy to find. Furthermore, its capacity to keep up with the pricey items speaks a lot about the efficiency of this product.
On the other hand, this bodyboard has its share of downsides, too. It may show some minor bubbling issues and some minor concerns about its leash. These downsides are outweighed by the upsides and are quite easy to solve.
Verdict
The Legendary Pro X Slick Bottom Bodyboard may have a lot to offer, but can it really be the best choice for you? Looking at the details, we can say that this product can indeed give you your money's worth.
Its advantages clearly outweigh its disadvantages, and the fact that it is comparable to expensive brands speaks a lot about its quality. If you want a good board and to save money at the same time, this product could definitely be your best option.
Take note, however, that you should be sure about what you really want and should properly educate yourself about your prospective product before buying it.
Perks of Exercising in Water
Do you find working out in the gym intimidating or doing aerobic exercises at home boring? Well, one better option that's gaining popularity nowadays is aquatic exercise (or water sports). You exercise underwater away from the prying eyes of spectators.
The following are some of the benefits of water exercise:
Water exercise promotes speedy
Patients who have undergone surgery recover more quickly when they resume exercise promptly. With an underwater treadmill, you can walk or run at a comfortable speed without straining your joints.
Furthermore, hydrostatic pressure helps you regain muscle strength more easily than when you exercise on land.
It helps you burn more calories.
Because of water resistance, you exert greater effort, thus making your workout more intense. This results in burning more calories than when you work out in the gym.
With aquatic exercises, the water's buoyancy counteracts the force of gravity. Your body weight decreases, allowing you to move with ease and comfort. You gain greater flexibility, which makes the workout less strenuous.
Moreover, low-impact water exercises result in less muscle stress and injuries. On the contrary, some land exercises are so intense that they can cause muscle soreness and even fractures.
It relieves joint and muscle pain.
Walking or stretching in water relieves arthritic patients of their stiff joints and muscle soreness. In addition to hydrotherapy, which is known to improve joint flexibility, water exercises also increase muscle strength for better mobility.
It improves blood circulation.
The water's hydrostatic pressure aids blood circulation. Increased blood flow means oxygen and nutrients are delivered to the different cell tissues.
Additionally, deep water exercises contribute to lower blood pressure and a healthier heart rate. Both are beneficial to your heart, so expect it to work more efficiently.
With all its unique properties, there's no doubt that exercising in water is a better alternative to land-based exercises.