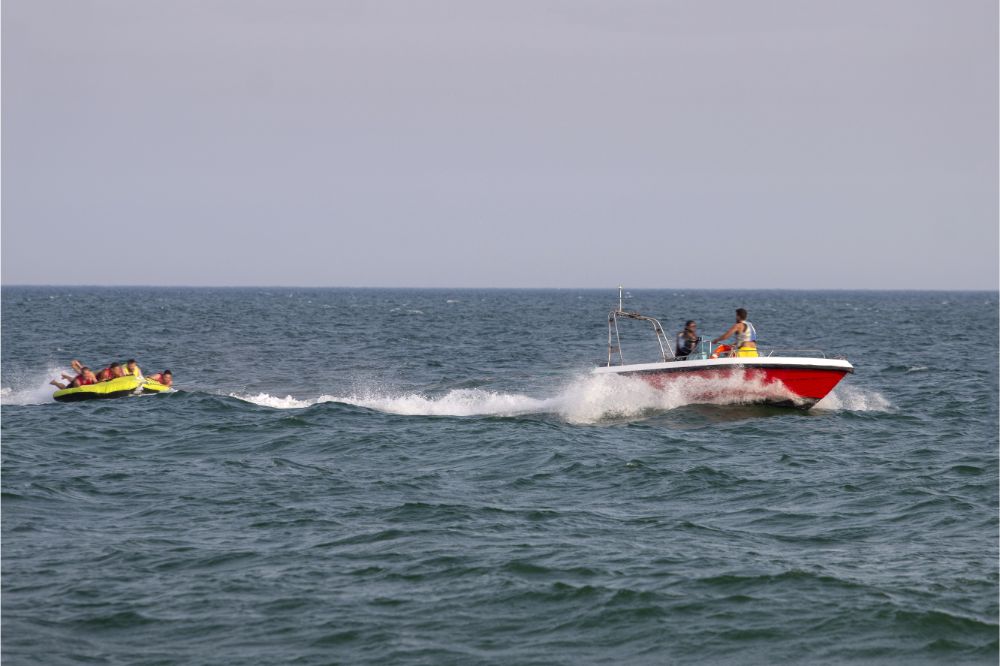 There are few things better in the summer months than to head out to the lake and have yourself some fun. Depending on who you are, the idea of fun on the lake may be many different things. One of the activities that may pop into mind is using a towable tube and a boat to enjoy your day.
There are a lot of options out there when it comes to towable tubes, so which one should you invest in? Below we take a look at several of the best towable tubes on the market in the hopes we can help you make that decision easier.
Airhead Mach 2 | 1-2 Rider Towable Tube for Boating , Blue
XGEAR Towable Tube for 1-2 Rider, Front and Back Tow Points for Boating, Blue
WOW World of Watersports Big Thriller 1 or 2 Person Inflatable Towable Deck Tube for Boating, 18-1000
RAVE Sports 02962 Blue Angel Inflatable 2 Person Rider Towable Boat Water Tube Raft
Leader Accessories 3-Person Towable Tube, Front & Back Tow Points (Blue)
The first towable tube we will be looking at is from her Airhead. Airhead's Mach 2 comes in three different sizes that can fit from one to three riders, giving it a lot of versatility.
Review
Design-wise, this towable tube is quite cleverly built. The model is designed with a PVC bladder in a heavy gauge and a double-stitched nylon cover for improved durability. Along with that, each of the three models has a built-in quick-connect system. The system allows you to quickly and easily connect the rope to the tube.
Not only is the material used in this tube durable, but it is also lightweight, which makes it glide across the water smoothly. Furthermore, transportation is easier. The handles that are built into the tube are padded for comfort and improved stability.
Even with all the amazing features that went into designing this tube, there is still one major issue that you may want to be aware of. Many have had problems with the seams of the tube being a little too sharp and ending up cutting them as they were riding it.
XGEAR Towable Tube
Not everybody wants to ride the same way. So if you're looking for an option that gives you more than one way to be towed, then the next towable tube that we're looking at may be a good fit for you.
Review
This tube starts off being crafted with high-quality materials. The heavy gauge PVC bladder is covered with nylon that is double stitched for improved durability. From there, the rest of the design serves to make this a great option for just about anyone.
One of the best features of this tube is that it has two tow points so that you can choose whether you want to ride backward or forwards. This gives it a lot of versatility and elevates the amount of fun you can have when using it.
Along with this, there are a plethora of non-slip cushioned handles that are fitted with knuckle guards so that you can maintain your stability and be comfortable while you're doing it.
There is a lot about this design, including the high back frame that really stands out, but of course, like with everything else, there is one issue you should be aware of before making your final decision. It may be easy to inflate and deflate, but many have had problems keeping air in the tube. This could lead to some hazardous situations.
WOW Watersports Thriller Deck
For those individuals that are into action watersports, you may want to find a model that is more durable than most. One of the best on the market that falls into this bracket is the WOW Watersports Thriller Deck.
Review
Though this may look like a simple design, when you get down to the actual construction of the towable tube, there is a lot to dive into. The model itself is crafted with a tapered construction which makes it higher in the back and lower in the front. This was done so that there would be less submarining and more of a wild wake action.
The tube itself is crafted with a PVC bladder and a zippered valve cover along with a reinforced towing system. The safety valve system that is built into it helps ensure that you can get the tube inflated fast. The unit's overall size is also great because it is designed to be able to hold multiple people for height and entertainment.
The only thing that many people feel detracts from the quality of this towable tube is the lack of towline in the purchase. This means that you will have to spend extra money so that you can enjoy the tube.
RAVE Blue Angel
For those that like a raft-style inflatable tube and are looking for an option that is easy to get on to, you may want to take a glance at the RAVE Sports Blue Angel. It is crafted with design features that will answer both of these needs.
Review
Unlike other models, this towable tube is designed with a circular frame. The tube is crafted with a 28 gauge PVC bladder and a 600D polyester cover. This gives it a bit of resistance when it comes to dirt and water as well as helps it maintain its brilliant blue color.
The model is also fitted with four handles that make it easier to transport once inflated and hold on to when enjoying your time on the lake. Overall this model is designed with a low profile which means once it is inflated and on the water, it is much easier to get onto than many other models. Along with this, it is fitted with side fins that help the tuber stay on easier.
Though this may sound like the perfect tube, there is, of course, one thing that you should take into consideration. The side fins are a nice touch to design, but they do inflate separately, and the nozzle you use to do this is very difficult to get your mouth around. This could be frustrating for some.
Leader Accessories 3-Person Tube
The last towable tube that we're going to be looking at is a large surface model that is versatile when it comes to how tubers choose to ride. This, of course, makes it a great choice for families or groups that are looking to have some fun on the water.
Review
Spacious and versatile are two words that you can associate with this towable tube. When inflated, the tube has plenty of room for two riders. Also included in the design are double webbing foam grab handles that will help the tubers stay on the tube comfortably.
This tube is crafted with a PVC air bladder wrapped in an 840D double stitch nylon cover with Eva foam seating pads. Even better is that all these amazing features come with a one-year warranty which is unusual for towable tubes.
There is one issue that could cause some to reconsider this tube as their go-to option. The material that is used in the design is inconsistent, according to some, when it comes to durability. This is not a universal problem, but there have been many people who have discussed this.
FINAL VERDICT
Having a good quality towable tube handy when you want to head out to the lake during the hot summer months is important for all that summer fun. Hopefully, with our in-depth look at the options above, we have assisted you in making that happen.