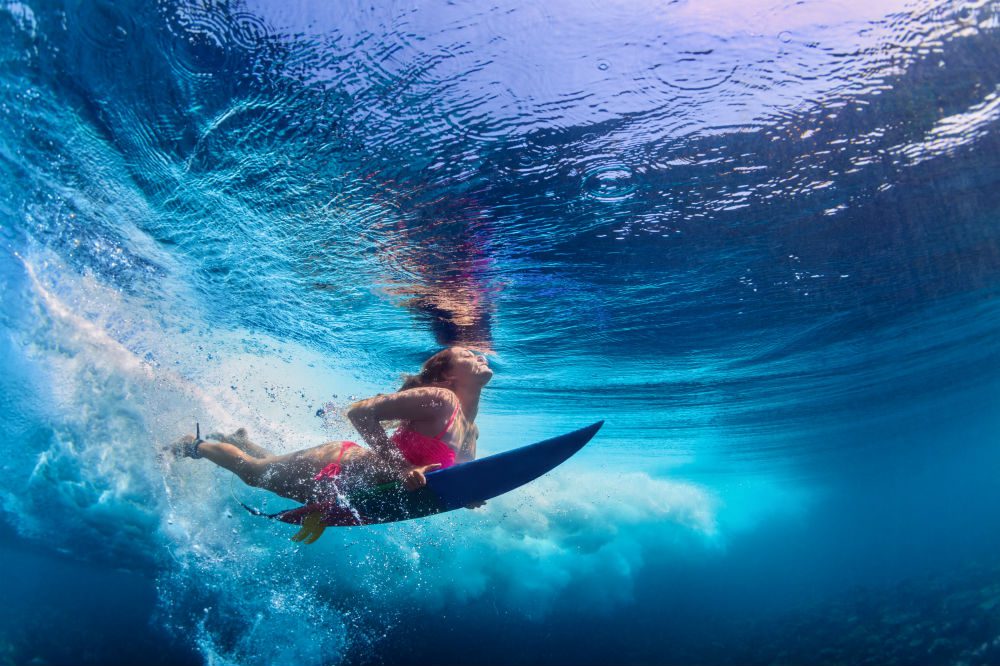 Summer is fast-approaching once again, and everyone is looking forward to beach trips and out-of-town adventures. Sunbathing or reading a book is enjoyable and relaxing, but it would be more fun if you put some action in your ocean adventure.
What do you need to bring for your adventure this time? The Black Marlin Bodyboard can give you the action-packed bodyboarding experience that you've been craving for.
Black Marlin Sporting Goods Bodyboard Review
Choosing the right board for you is an essential part of your improvement as a rider. You need a board that matches your abilities, built and weight, wave condition, and riding style. The Black Marlin Bodyboard has the features and advantages vital in riding the waves.
Features
Black Marlin is a trusted one-stop shop for various sporting goods. It offers quality sporting equipment from snorkel masks to gymnastics bars and bodyboards. One of their well-loved sports goods is the Black Marlin Bodyboard. What makes it stand out among the other boards today?
Materials and Construction
The Black Marlin Bodyboard has a high-density polyethylene bottom, and it has an engineered EPS core that is extremely lightweight, buoyant, and durable. The bottom's surface also supports and improves the rider's speed on the water.
The overall construction is an important factor of this board because it does not easily crack, bend, and get damaged by the waves. It is also great for surfing. In fact, the bottom rear channels improve surfing and bodyboarding experience.
Moreover, this board has a crescent tail that aids in increasing speed and overall performance. Also, when it flips over, it won't hit your head that hard because it is a lightweight board.
The Black Marlin Bodyboard measures 37 inches long and weighs approximately 1.3 pounds. It is lightweight and compact enough to conveniently carry along the shore, in the water, and place in the car's hood and other storage.
Aesthetically speaking, the Black Marlin Bodyboard has a sleek and simple design. It has wavy blue colors on the side and the Black Marlin logo at the center. More than the visual appeal, the design is extremely dynamic and best suited for all wave conditions.
The design also adds fun and speaks of personal style since you can sit or lay on it while getting a tan or reading a book for a relaxing beach trip. It goes well with any swimwear, improving your overall personal effects.
Built with a leash, you will never lose this board even when you get wiped out. Simply strap it around your wrist, and it will stay there until you remove it. It also serves as a safety mechanism so you will stay in touch with the board even in deeper parts of the water.
Without requiring any parts assembly, the Black Marlin Bodyboard is easy and straightforward to use. It does not require modification either. In fact, you can immediately ride it out straight from the delivery packaging box.
The Black Marlin Bodyboard comes with a satisfaction guarantee. If you are not satisfied with the board, you can get a 100% refund within 30 days of purchase. It is also reasonably priced, which further ensures that you get the most out of your buck.
Comparison with Another Bodyboard
The Black Marlin Bodyboard seems like an excellent option, but some people might want an alternative that is more affordable. A good alternative is the Bo-Toys Body Board.
The Bo-Toys Body Board measures 33 inches and weighs two pounds, making it easy to carry and store. Plus, it is also water-resistant and has 60/40 rails to support control and tricks. To secure it to the boarder's body, the Bo-Toys Body Board includes a wristband and leash.
Similar to the Black Marlin Bodyboard, the Bo-Toys Body Board also has a stylish design. It has an overall blue color painted with a bright-colored abstract pattern. It adds fun to beach adventure and other sports activity.
Both bodyboards are made with a polyethylene bottom and a crescent tail, which is a combnination that makes for a bodyboard that improves overall performance. While it seems to have solid construction, after several uses, it wears out. Apparently, it is made of cheap material that does not justify the price.
Conclusion
It is without a doubt that the Black Marlin Bodyboard is a simple bodyboard that comes at a mid-range price. For people who are looking for solid construction, improved maneuverability, compact, and convenience, the Black Marlin Bodyboard is a great find.
For any action-packed water activities in the beach, river, or lake, the Black Marlin Bodyboard has got it all covered. It has a ton of features that make the price worth it. It even comes with a money-back guarantee, which secures your purchase and allows you to get a refund if you are not satisfied with it.
In addition to that, it has a sleek design that adds style and fun to beach adventures. Since it is compact and lightweight, it is convenient to transport, and it doesn't consume too much space in storage areas.
While it is comparable with other boards like the Bo-Toys Bodyboard, we found that it is still the better choice. It can be immediately used straight from the box without requiring any assembly.