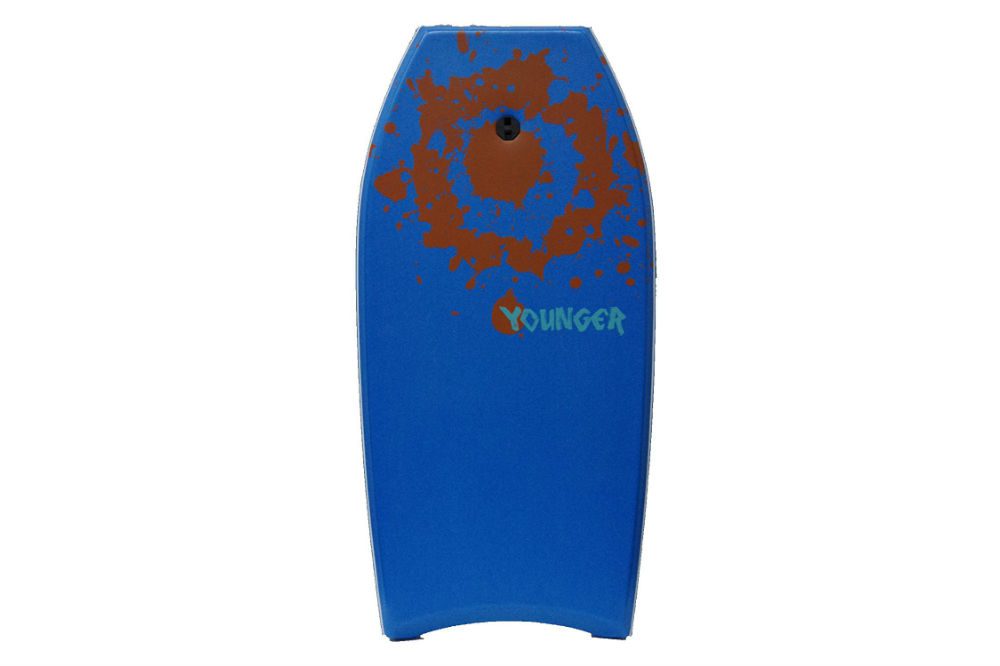 Want to go bodyboarding with your entire family? That would be great. Bodyboarding is becoming more popular these days, and it is even deemed a good family sport.
Have you already bought a good board? If not, you may want to consider the Younger 41-inch Super Bodyboard with IXPE deck, which highly promotes its capacity to suit family use. It might also be a good choice if you want something that provides various benefits.
Features
It comes with 60/40 rails.
It includes a HDPE (High-Density Polyethylene) super slick bottom with channels and a crescent tail.
It uses Heat Lamination Technology and includes an EPS core and IXPE deck.
It has a Pro Quality leash with a wristband.
It has a light weight.
Pros
It showcases strength and durability, thanks to the Heat Lamination Technology it uses and the IXPE deck and EPS core that comes with it.
Being compact and lightweight, it travels well. Such traits also add ease to users who want to carry it around.
It is so manageable that even young kids can find it easy to use.
It is water-resistant in all wave conditions.
It is maneuverable, which is made possible by the 60/40 rails that come with it.
The leash that comes with it provides security, as it helps keep the board nearby.
Its bright color options and stylish design add to the aesthetic beauty that it already has.
It is firm and can withstand long hours of use.
The wrist strap feels comfortable.
It can last long; it does not look old easily as well.
It generally works great.
It is of good quality.
It has a good price.
Cons
The leash and wrist strap tend to have some minor issues.
It may not suit people who are six feet tall.
Summary
The Younger 41-inch Super Bodyboard can greatly appeal to customers because of the good features that come with it and the numerous benefits it provides. As for convenience, its light weight and comfortable feeling contribute a lot. It is also physically attractive thanks to its bright color options and stylish design.
Moreover, the bodyboard is easy to move and manage. It is likewise durable, long-lasting, and of high quality. What's surprising is that despite all these great advantages, it comes with a good price. Needless to say, this is a huge plus.
As discussed earlier, this product also works well for family use.
In terms of the disadvantages, this bodyboard may have some minor issues with the wrist strap and leash. It may not be suitable for tall people as well.
Such downsides are not that serious and can easily be dealt with. The advantages outweigh them, too.
Verdict
Having benefits that encompass various aspects of the bodyboarding experience, the Younger 41-inch Super Bodyboard with IXPE deck may indeed be a good buy for you. You can work on the disadvantages (except the height issue) and still completely enjoy using the product.
If you want to make sure you're getting a good buy, have the initiative to do thorough research about this product and be sure about what you really want.
Bodyboarding Tips for Beginners
Is this your first time trying bodyboarding? If so, it can be exciting and scary at the same time. While you may have read a lot about the sport, things become different when you actually do it.
To help you succeed, here are some bodyboarding tips for beginners:
Familiarize yourself with the parts of a bodyboard.
Your board will be your best buddy in the water. To work well with it, you should, of course, familiarize yourself with its parts and how it works. You don't have to memorize everything. You can just go online and have a quick read while looking at some photos.
Educate yourself on basic terms.
Just like in any other sport or activity, there may be some jargon that you need to learn. You don't have to know it all. You just need to be familiar with some of the basic terms that your instructor may use during the beginning phase.
Choose a safe location.
There are various beautiful locations for bodyboarding, but it is best to choose an area where there are lifeguards. Beginners like you should take extra care when doing water sports.
Take time to relax before actually doing it.
While you should be serious about learning to bodyboard, you should also take time to loosen up. A relaxed mind helps you learn easily, while being consumed by stress does the opposite.
Be patient enough.
Of course, there is a great possibility that you will not be able to perform perfectly on your first try. You may even take a lot of tries and still not get everything that you need to do.
With enough patience, you will surely succeed in learning this water sport.
Keep these tips in mind, and your first time to catch some waves will surely be a blast.